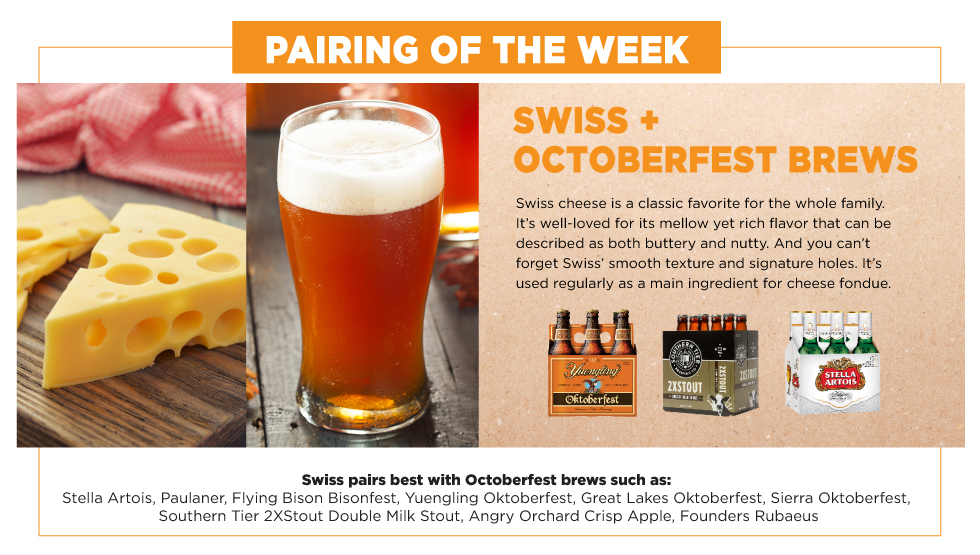 Swiss cheese is a classic favorite for the whole family. It's well-loved for its mellow yet rich flavor that can be described as both buttery and nutty. And you can't forget Swiss' smooth texture and signature holes. It's used regularly as a main ingredient for cheese fondue.
Swiss pairs best with Octoberfest brews such as:
Stella Artois, Paulaner, Flying Bison Bisonfest, Yuengling Oktoberfest, Great Lakes Oktoberfest, Sierra Oktoberfest, Southern Tier 2XStout Double Milk Stout, Angry Orchard Crisp Apple, Founders Rubaeus
The king of Italian cheeses, Parmesan is aged over ten months and has a granular texture and sweet, buttery and nutty flavor. It's extremely versatile and can be shared as a table cheese, shaved over salads or pasta and grated into sauces and mashed potatoes.
Widely regarded as Denmark's most famous cheese, Havarti is a semi-soft cow's milk cheese. Havarti has a supple, creamy texture making it an excellent table cheese. It's buttery, mild flavor is a great addition to egg dishes and sandwiches.
Blue cheese ranges in flavor from delicate and only slightly tangy to richly earthy andvery sharp. Its textures can range from crumbly to readily spreadable making it a perfect addition to salad dressing and dips, pasta dishes, omelets, crepes and soufflés.
Feta is a unique cheese that undergoes a four to six week brining process to prolong its keeping quality. This technique gives feta a soft, crumbly texture and a strong, salty flavor. It's an amazingly versatile cheese that adds rich flavor to salads and baked dishes and is regularly used in Greek and Mediterranean dishes.
Classic Farmhouse cheese originated in the village of Cheddar in Somerset, England, now produced in countries around the world. From creamy texture of its youth, to crumbly, sharp, full-bodied presence as it ages -- rejoice in its wide variety of ages and flavors.
Brie is the most popular of all imported French cheeses for good reason. When served at room temperature with fresh fruits and walnuts, it's delectable. When brie is layered with sun-driedtomatoes and baked en croûte, it's heavenly!
There are literally dozens of different goat cheeses, also known as chèvre, produced in France and the United States today. Goat cheese range of flavors and textures can vary as much as any of the cheeses made from cow's milk and can be covered in herbs, spices or even a fine vegetable ash as well.
As if you needed another reason to love cheese and beer.For your next get together with friends, how about hosting a beer and cheese sampler. Tops has an outstanding selection of each and is sure to make for some memorable fun! View the Tops Weekly Ad for great beer selections, or visit your localTops Brew Market in store.