Tops Friendly Markets
Recipes
https://www.topsmarkets.com/Recipes/Detail/8423/Barbacoa_Street_Tacos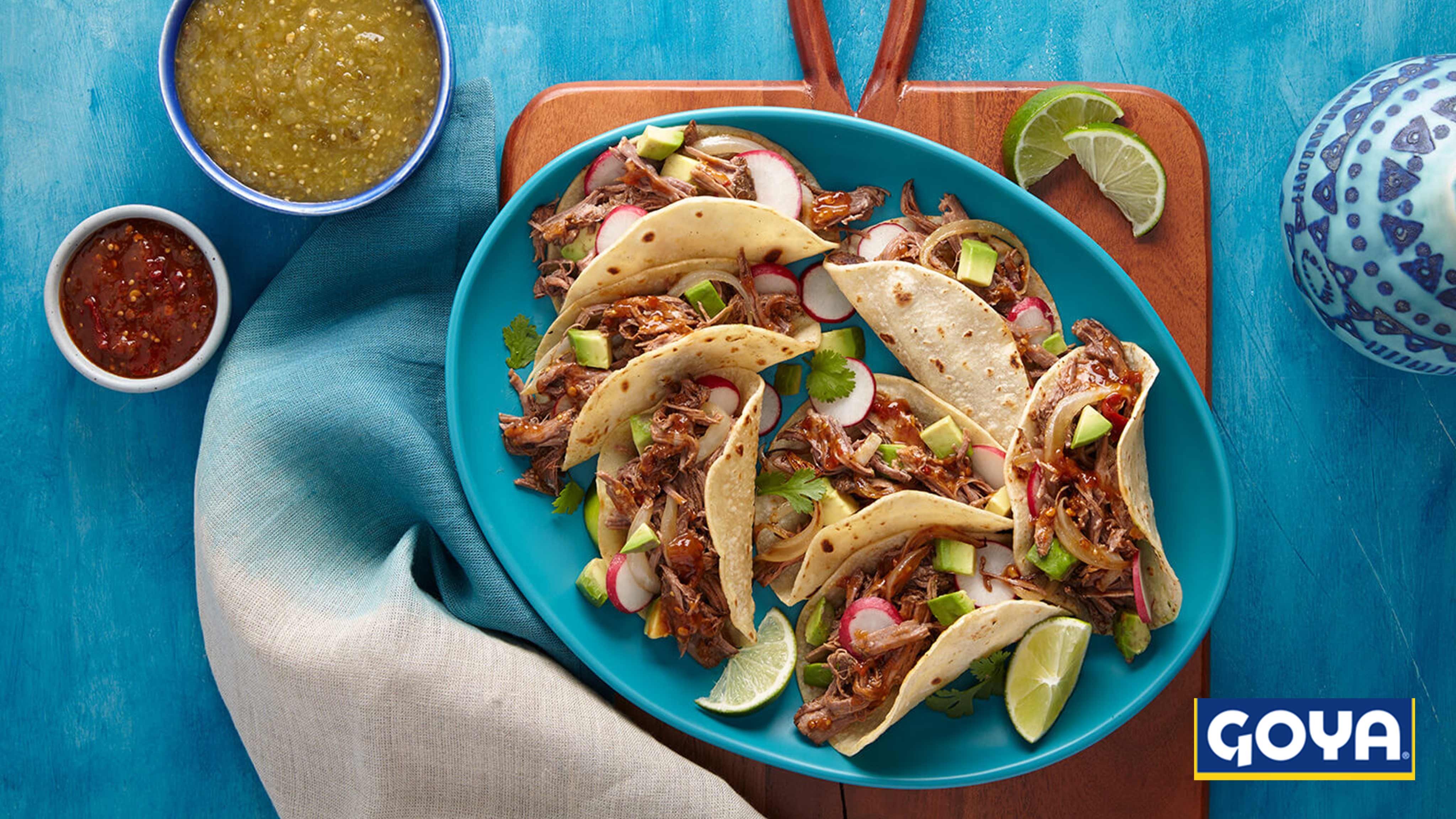 Barbacoa Street Tacos

Yield: 8 to 10 servings
Preparation Time: 25 min; Total: 4 hours 40 min
Ingredients
5
pounds

chuck roast, cut in half

2
tablespoons

GOYA Sazonador Total

1
can

(8 ounce) GOYA Tomato Sauce

1

onion, grated

5
tablespoons

sauce (divided) and 2 chiles, finely chopped from 1 can (7 oz) GOYA Chipotle Peppers in Adobo Sauce

1/4
cup

cider vinegar

2
teaspoons

ground cumin

2
teaspoons

dried oregano

1/4
teaspoon

ground cloves

1
packet

GOYA Chicken Flavored Bouillon

Serve with:

GOYA Mini Corn Tortilla-Taquitos

GOYA Salsa Verde

GOYA Salsa Taquera

chopped avocado

sauteed onion

radish slices

lime wedges

fresh cilantro
Add To

Directions:
Step 1:
Preheat oven to 300 degrees F

Step 2:
Place roast in large nonreactive roasting pan or large baking dish. Sprinkle with Sazonador. Combine tomato sauce, onion, chipotle, 2 tablespoons adobo sauce, vinegar, cumin, oregano, cloves, bouillon and 1 cup water in bowl. Pour around roast. Cover pan tightly with foil.

Step 3:
Bake until metal skewer inserts easily into the center, about 4 hours. Transfer meat to plate to cool. Place cooking liquids in large saucepan. Simmer over medium high heat, stirring occasionally, until thickened and reduced to 1-3/4 cups, about 16 minutes.

Step 4:
Break meat apart; remove any sinew and discard. Shred beef, using fingers or two forks. Add to sauce and simmer heated through. Spoon into tortillas and serve with salsa and toppings.
Recipe yields 2 lbs 2 oz cooked, cleaned beef from 5 lbs chuck; about 6 cups shredded beef.

Beef and sauce can be refrigerated for up to 4 days in advance. Bring to room temperature for easy shredding, or shred before storing. Barbacoa can be stored frozen fro up to 4 months.
Please note that some ingredients and brands may not be available in every store.
Tops Friendly Markets
Recipes
https://www.topsmarkets.com/Recipes/Detail/8423/