Tops Friendly Markets
Recipes
https://www.topsmarkets.com/Recipes/Detail/7313/Cheesecake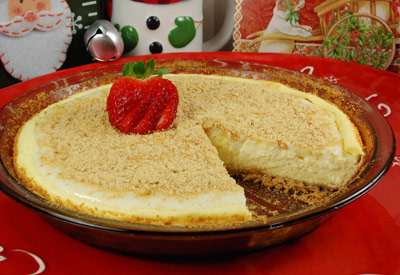 Cheesecake

NuVal... Build a Better Recipe
Yield: 8 servings
Ingredients
Tops cooking spray

1/2
cup

graham cracker crumbs, divided

1
container

(12 ounce) Tops Low Fat Cottage Cheese (NuVal score 94) or Regular Cottage Cheese (NuVal score 23)

1
package

(8 ounce) Tops cream cheese

3/4
cup

Tops egg substitute (NuVal score 53)

1/2
cup

Tops granulated sugar

1
teaspoon

Tops vanilla extract

1
container

(6 ounce) Tops vanilla lowfat yogurt

3
Tablespoons

Tops granulated sugar

1/2
teaspoon

Tops lemon juice

Sliced fresh strawberries (NuVal score 100)
Add To

Directions:
Preheat oven to 350 degrees F.

Spray 9- inch pie plate with cooking spray. Reserve 2 Tbsps graham cracker crumbs; set aside.

Coat bottom and sides of the pie plate with remaining graham cracker crumbs.

Place cottage cheese, cream cheese, eggs substitute, 1/2 cup sugar and vanilla in the blender on high until smooth. Pour into crust.

Bake 35 minutes or until center is almost set. Remove from oven; let stand 10 minutes.

Combine yogurt, 3 Tbsps sugar and lemon juice until well blended. Spread over the top of the cheesecake. Sprinkle remaining 2 Tbsps graham cracker crumbs on top and bake for additional 5 minutes. Cool, cover and refrigerate for an additional 4 hours.

Serve with sliced strawberries.
NuVal notes:
Fresh strawberries
NuVal score of 100

Tops Plain Cream Cheese
NuVal score of 26
(as compared to Tops Light Cream Cheese with a NuVal score of 24)

Better Than Eggs Egg Substitute
NuVal score of 53
(as compared to traditional eggs with a NuVal score of 33)

Tops Low Fat Cottage Cheese
NuVal score of 25
(as compared to Tops regular cottage cheese with a NuVal score of 23)
Please note that some ingredients and brands may not be available in every store.
Tops Friendly Markets
Recipes
https://www.topsmarkets.com/Recipes/Detail/7313/