Tops Friendly Markets
Recipes
https://www.topsmarkets.com/Recipes/Detail/8022/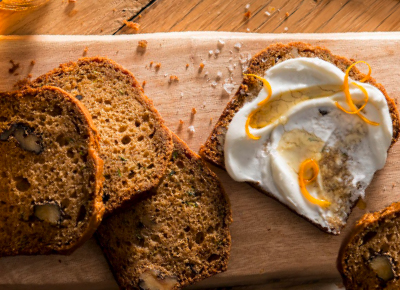 Banana Bread with Vanilla Labne

Yield: 3 loaves
Ingredients
Vanilla Labne:
1
container
(32 ounces) Chobani Vanilla Non-Fat Greek Yogurt

3
feet
cheesecloth

Banana Bread:
1/2
cup
Chobani Plain Whole Milk Greek Yogurt

2
cups
bananas, overripe

1
cup
turbinado sugar

1
cup
dark brown sugar

1/4
cup
safflower oil

1/4
cup
butter, unsalted, melted

1/4
teaspoon
almond extract

3
eggs

3
cups
all purpose flour

1
teaspoon
salt

1 1/2
teaspoons
baking powder

1 1/2
teaspoons
baking soda

1
Tablespoon
cinnamon, ground

1/4
teaspoon
nutmeg, ground

1
cup
walnuts, chopped
Directions:
Vanilla Labne:
Rinse cheesecloth under hot water and squeeze out excess liquid. Unwrap the cheesecloth to a single layer and re-fold it to make a square with 4 layers and lay the square over a medium sized bowl evenly. Place the yogurt in the center of the cheesecloth. Pull the corners of the square together and hang the ball of yogurt over the bowl in the refrigerator overnight.

Remove the vanilla labne from the cheesecloth and place into a stand mixer with the beater attachment. Beat on high until the labne becomes creamy and resembles the texture of frosting.

Banana Bread:
Preheat oven to 350 degrees F

Coat (3) nonstick 4.5 x by 8.5 inch loaf pans with nonstick spray.

Combine yogurt, banana, sugars, oil, butter, extract and eggs in a large bowl and mix until fully incorporated.

Combine all dry ingredients and mix well. Add dry ingredients to wet ingredients and mix just to combine, being cautious not to overwork the dough.

Divide batter evenly between loaf pans. Bake for 45 to 60 minutes or until a cake tester inserted in the middle of each loaf comes out clean. Remove from oven and invert onto a wire rack. Serve with a spread of vanilla labne.
Recipe and image source: Chobani
Please note that some ingredients and brands may not be available in every store.
Tops Friendly Markets Recipes
https://www.topsmarkets.com/Recipes/Detail/8022/