Tops Friendly Markets
Recipes
https://www.topsmarkets.com/Recipes/Detail/7286/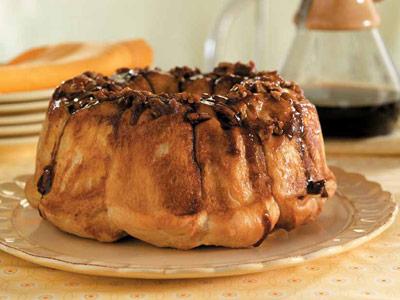 Cinnamon Pecan Monkey Bread

Diabetes Appropriate
Yield: 18 servings
Preparation Time: 20 min; Cook Time: 25 min
Ingredients
1/2
(3 pound) package frozen roll dough, thawed

1/4
cup
chopped pecans

2
Tablespoons
butter

1/4
cup
SPLENDA Brown Sugar Blend

1/4
teaspoon
ground cinnamon

1/3
cup
SPLENDA Brown Sugar Blend

1/4
teaspoon
ground cinnamon

3
Tablespoons
butter, melted
Nutrition Facts
Yield: 18 servings
Approximate Nutrient Content per serving:
Calories:
180
Calories From Fat:
54
Total Fat:
6g
Saturated Fat:
2g
Cholesterol:
10mg
Sodium:
290mg
Total Carbohydrates:
24g
Dietary Fiber:
1g
Sugars:
9g
Protein:
4g
Diabetes Appropriate
Please Note: Nutritional values listed may vary from final results depending on actual measurements, products and brands used to prepare the recipe.
Directions:
1. Spray a 12- cup Bundt pan with vegetable cooking spray. Sprinkle pecans in bottom of pan; set aside.

2. Combine 2 tablespoons butter, 1/4 cup SPLENDA Brown Sugar Blend and 1/4 teaspoon cinnamon in a small saucepan; cook over low heat, stirring constantly until blended; pour mixture over pecans. Set aside.

3. Combine 1/3 cup SPLENDA Brown Sugar Blend and 1/4 teaspoon cinnamon in a small bowl; set aside.

4. Cut each roll into half; dip tops of balls into melted butter and then into SPLENDA Brown Sugar Blend mixture. Place in prepared pan. (At this point Monkey Bread may be covered and stored in the refrigerator 8 hours or overnight or proceed as directed). Cover and let rise in a warm place, free from drafts, 50 minutes or until doubled in bulk.

5. Preheat oven to 350 degrees F about 10 minutes prior to baking. Bake 25 to 30 minutes or until bread sounds hollow when tapped. Remove from pan; cool on a wire rack. Serve warm.
Recipe and photo from Life First - OneTouch
Please note that some ingredients and brands may not be available in every store.
Tops Friendly Markets Recipes
https://www.topsmarkets.com/Recipes/Detail/7286/