Tops Friendly Markets
Recipes
https://www.topsmarkets.com/Recipes/Detail/8950/Cooper%c2%ae_Sharp_Loaded_BLT_Onion_Rings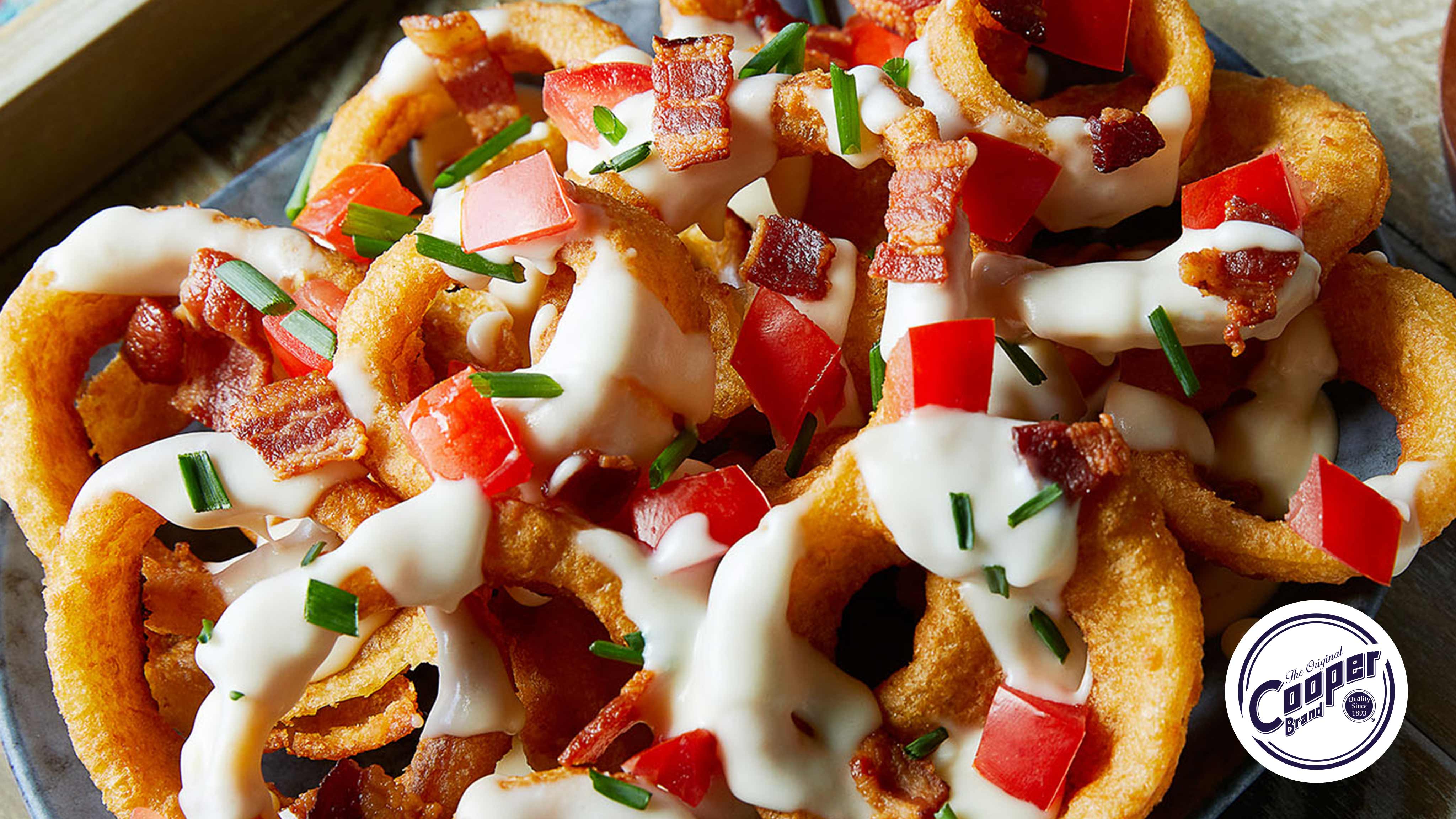 Cooper® Sharp Loaded BLT Onion Rings

You may know onion rings as a quintessential part of the modern pub experience. But they actually have a surprisingly long history, seeming to date back to at least the early 1800s. Of course, back then they had to fry them over a fire, and they probably couldn't enjoy them while watching Monday Night Football. And, most importantly, they didn't have Cooper• cheese at the ready. But you have all of those things. You can not only have your onion rings but load them up with all the Cooper® cheese and BLT goodness your heart desires. Modern life is amazing indeed.
Yield: 5 servings
Ingredients
Onion Rings:

1
package

(14 ounce) frozen onion rings

1

small tomato, diced

2-3
tablespoons

fresh chives, chopped

4-6
strips

bacon, fully cooked and chopped*

Cheese Sauce:

2
tablespoons

butter

2
teaspoons

all-purpose flour

1/2
cup

whole milk

3/4
pound

Cooper® Sharp White cheese, cubed or shredded (approximately 1 1/2 cups)
Add To

Directions:
Prepare the cheese sauce:
Melt butter in a medium saucepan over medium heat. Once melted, add flour and stir for 1 minute to create a roux. Whisk in the milk and stir until thick. Add Cooper• Sharp cheese and stir with a wooden spoon until creamy.

Prepare the onion rings:
Prepare onion rings according to package directions. Just make sure they're cooked nice and crispy.

Layer the prepared onion rings on a serving platter. Drizzle with Cooper® cheese sauce. Sprinkle with tomato, bacon, and chives.

Serve immediately and enjoy!

*Consuming raw or undercooked meats, poultry, seafood, shellfish, or eggs may increase your risk of foodborne illness.
Please note that some ingredients and brands may not be available in every store.
Tops Friendly Markets
Recipes
https://www.topsmarkets.com/Recipes/Detail/8950/