Tops Friendly Markets
Recipes
https://www.topsmarkets.com/Recipes/Detail/8900/Creamy_Scalloped_Potatoes_with_Ham_and_Peas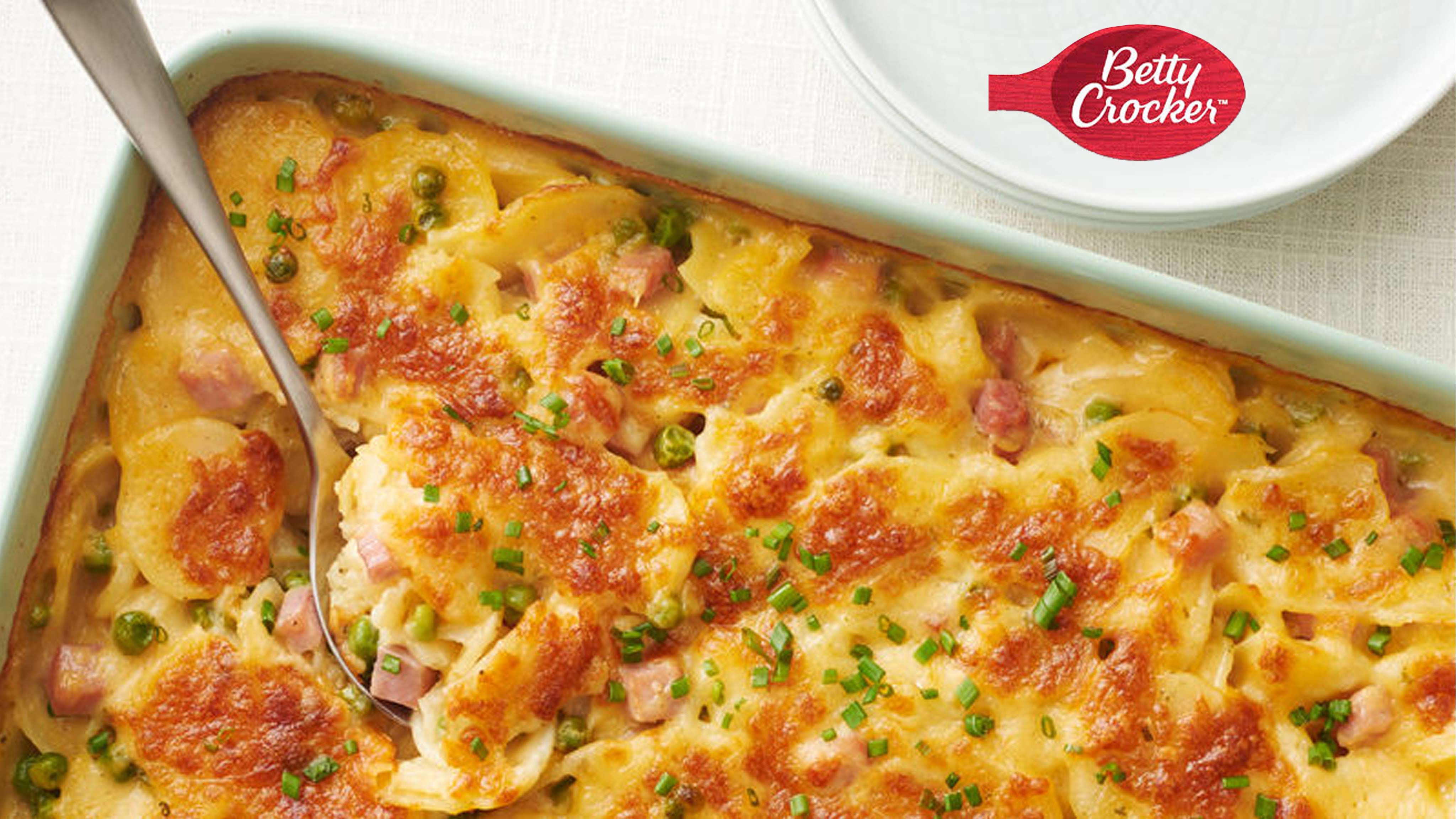 Creamy Scalloped Potatoes with Ham and Peas

It only takes a handful of ingredients to make standard scalloped potatoes into a dish that's truly deluxe--creamy, cheesy and fully loaded. The rich flavor and meltingly tender texture in this recipe are thanks to the addition of heavy cream, so save your milk for cookies. Ham, peas and Cheddar make this dish hearty enough for a satisfying dinner or a filling potluck side. Betty Crocker scalloped potatoes make the whole dish easy to throw together; no need to slice up all those taters. Next time you need dinner or a side, stat, turn to this warming and luxurious twist on scalloped potatoes.

Yield: 8 servings
Preparation Time: 10 min; Total Time: 45 min
Ingredients
2
boxes

(4.7 ounces each) Betty Crocker scalloped potatoes

1
cup

diced ham steak

1
cup

frozen sweet peas

4
cups

boiling water

1
cup

heavy whipping cream

2
tablespoons

thinly sliced fresh chives

1
cup

shredded white Cheddar cheese (4 ounces)
Add To

Nutrition Facts
Yield: 8 servings
Approximate Nutrient Content per serving:
Calories:
300
Calories From Fat:
135
Total Fat:
15g
Saturated Fat:
9g
Cholesterol:
55mg
Sodium:
940mg
Total Carbohydrates:
30g
Dietary Fiber:
3g
Sugars:
2g
Protein:
9g
Directions:
Heat oven to 450 degrees F. Spray 13x9-inch (3-quart) glass baking dish with cooking spray.

In large bowl, place both packages of potatoes and sauce mix (from scalloped potatoes boxes), the ham and frozen peas; pour boiling water and whipping cream over mixture, and stir. Stir in 1 tablespoon of the chives. Pour mixture into baking dish; spread evenly.

Sprinkle cheese over potato mixture. Bake 33 to 35 minutes or until top is golden brown and potatoes are tender. Let stand 5 minutes (sauce will thicken as it stands). Top with remaining 1 tablespoon chives.

Expert Tips:
No need to thaw the peas before adding to the casserole--they cook quickly.

You can microwave the water in an 8-cup glass measuring cup uncovered on High 3 to 5 minutes or until boiling.

Keep frozen peas in the freezer as part of your "frozen pantry," and they'll be waiting for you on harried weeknights when the veggie crisper is looking a little empty. They can be stirred into boiling pasta or added to steamed rice in the last few minutes of cooking.

Trouble finding chives? Green onion greens make a good substitute.

Here's a great way to use up your leftover holiday ham or turn a boneless ham steak into dinner. This dish can stand alone as supper but it's also good with a simple green salad alongside.

Scalloped potatoes are simply thinly sliced potatoes layered in a casserole with a cream sauce. Often, scalloped potatoes are topped with toasted breadcrumbs for a crispy texture contrast. Scallop comes from the French word, escalope, which refers to a thinly sliced ingredient, especially a thinly sliced cut of meat.

Please note that some ingredients and brands may not be available in every store.
Tops Friendly Markets Recipes
https://www.topsmarkets.com/Recipes/Detail/8900/