Tops Friendly Markets
Recipes
https://www.topsmarkets.com/Recipes/Detail/8795/Cooper%c2%ae_Sharp_Bacon_Cheeseburger_Totchos_(Tater_Tots)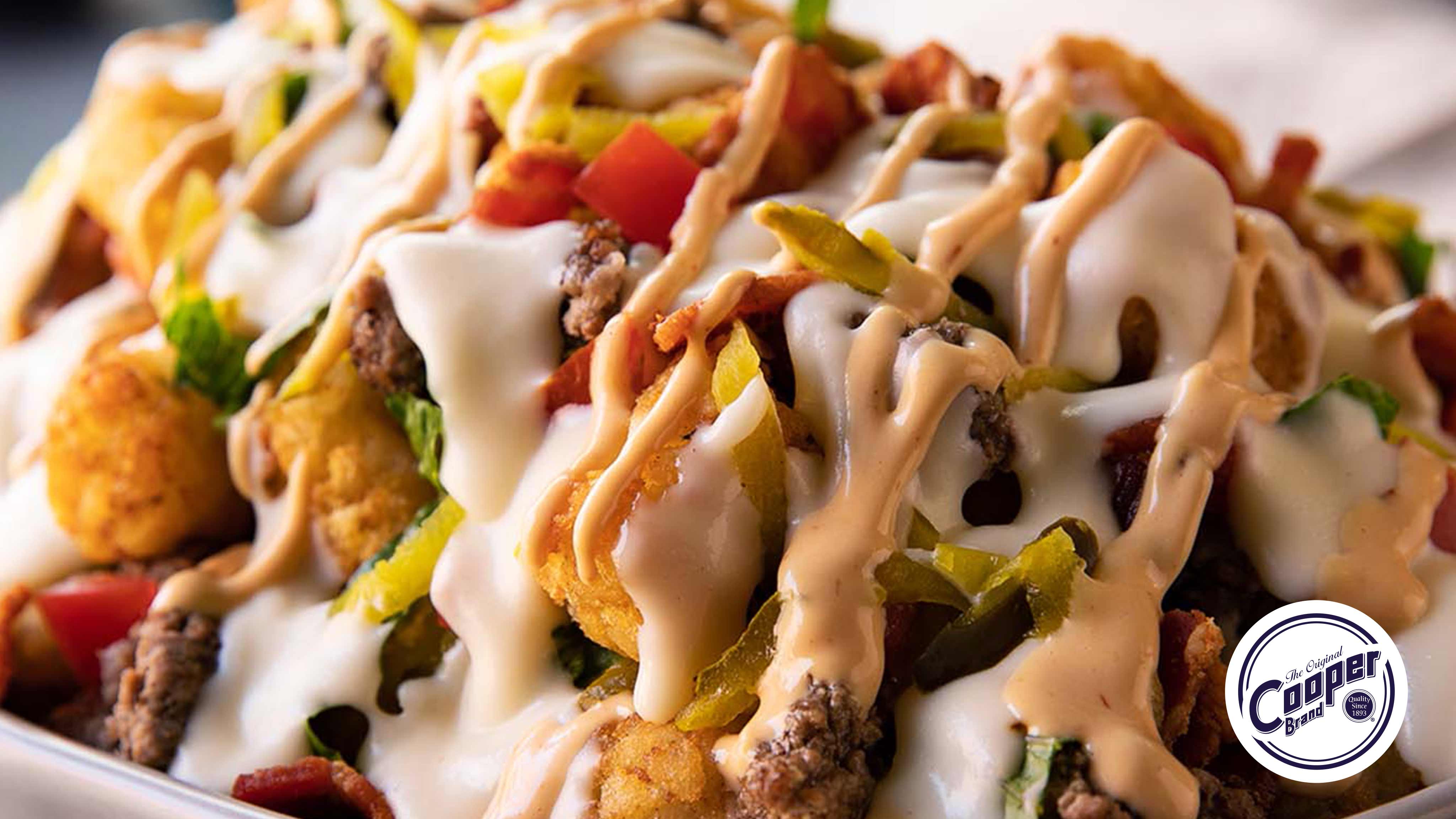 Cooper® Sharp Bacon Cheeseburger Totchos (Tater Tots)

You know us. We love putting great foods together. Like a matchmaker of deliciousness. This time, we may have outdone ourselves, though. Cheeseburger. Bacon. Tater Tots. Nacho fixings. And melty Cooper® cheese perfection. All mixed together into that magical concoction affectionately known as "totchos." Buckle up for this one. You may never want to eat anything else.

Yield: 4-6 servings
Ingredients
FOR THE TOTCHOS:

2
pounds

frozen Tater Tots

2
tablespoons

butter

1/2
cup

onion, chopped

1
pound

ground beef*

salt and pepper to taste

4
leaves

romaine lettuce hearts, washed and shredded

1 1/2
cups

Mason Jar Cheese Sauce

1

large tomato, diced

1/4
cup

dill pickles, shredded

1/4
cup

bacon bits*

FOR THE SAUCE:

1/3
cup

mayonnaise

3
tablespoons

ketchup

2
tablespoons

mustard
Add To

Directions:
Preheat oven to 425 degrees F.

Make the totcho sauce:
Mix mayonnaise, ketchup and mustard together thoroughly. Store in the refrigerator until ready to serve.

Make the totchos:
Arrange Tater Tots in a single layer on a rimmed baking sheet. Bake in preheated oven until starting to turn brown, about 20-25 minutes.

Meanwhile, heat a large skillet over medium heat. Melt butter and add onion. Cook for 3 minutes. Add ground beef, season to taste with salt and pepper, and cook until no longer pink.

When Tater Tots are nice and crispy, remove from the oven and sprinkle cooked ground beef on top in an even layer.

Spoon 1 1/2 cups of your Mason Jar Cheese Sauce into a microwavable dish and heat about 2 minutes until warm.

Top your totchos with lettuce, tomatoes, pickles, and bacon bits. Pour your cheese sauce over the top, then finish it off with the prepared totcho sauce. Serve immediately (you won't be able to wait anyway).
*Consuming raw or undercooked meats, poultry, seafood, shellfish, or eggs may increase your risk of foodborne illness.
Please note that some ingredients and brands may not be available in every store.
Tops Friendly Markets
Recipes
https://www.topsmarkets.com/Recipes/Detail/8795/