Tops Friendly Markets
Recipes
https://www.topsmarkets.com/Recipes/Detail/8768/Ultra_Creamy_Mashed_Potatoes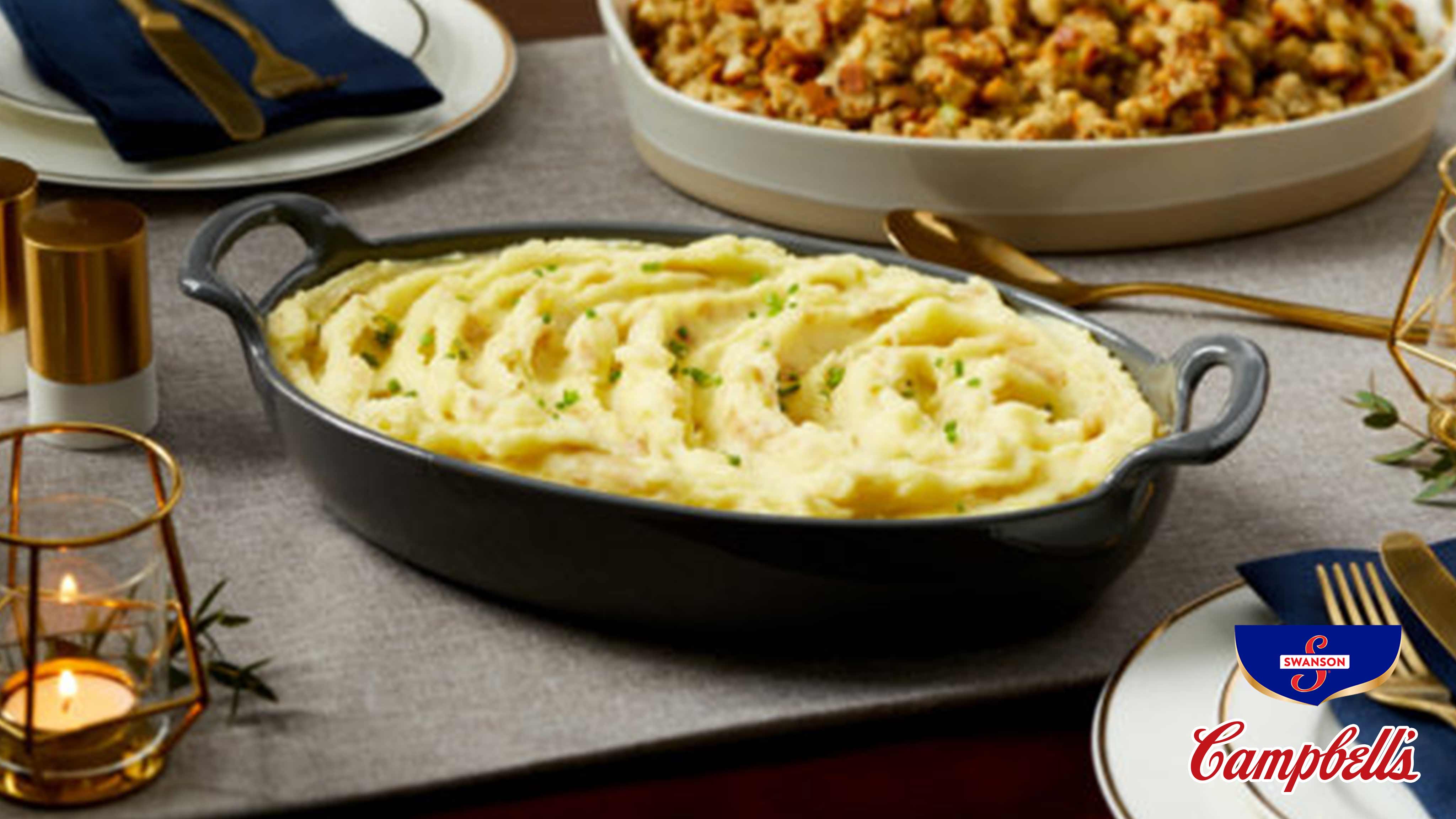 Ultra Creamy Mashed Potatoes

The secret to making these potatoes extra-flavorful is cooking them in chicken broth. They're mashed until smooth and creamy, with just the right amount of butter and cream to make a homestyle potato side everyone will enjoy.
Yield: 6 servings
Preparation Time: 10 min; Total: 30 min
Ingredients
2
cups

Swanson Chicken Broth or Organic Free-Range Chicken Broth or Natural Goodness Chicken Broth

2 1/2
pounds

Yukon Gold potato or russet potatoes, peeled and cut into 1-inch pieces (about 6 cups)

1/2
cup

light cream or half and half

2
tablespoons

butter
Add To

Nutrition Facts
Yield: 6 servings
Approximate Nutrient Content per serving:
Calories:
226
Calories From Fat:
90
Total Fat:
10.2g
Saturated Fat:
6.2g
Cholesterol:
32mg
Sodium:
250mg
Total Carbohydrates:
30.6g
Dietary Fiber:
4.5g
Sugars:
0g
Protein:
3.8g
Using Swanson Certified Organic Chicken Broth
Directions:
Place the broth and potatoes in a 3-quart saucepan. Heat over high heat to a boil, then cover and cook (still on high) for 10 minutes or until the potatoes are tender.

Drain the potatoes, reserving the broth.

Mash the potatoes with the cream, butter and about 1/2 cup reserved broth (the consistency will vary depending on the type of potatoes used, so you may want to add more of the reserved broth- see ingredient note below). Season with salt and pepper.

Tips:
-Flavor Variation: For Ultimate Mashed Potatoes, stir 1/2 cup sour cream, 3 slices bacon, cooked and crumbled (reserve some to sprinkle on top), and 1/4 cup chopped fresh chives into the hot mashed potatoes. Sprinkle with the reserved bacon.

•Easy Substitution: For Ultra Creamy Sweet Potatoes, substitute 2 large sweet potatoes (about 2 pounds), peeled and cut into 1-inch pieces (about 5 1/2 cups) for the potatoes. Makes 5 servings.

•Ingredient Note: A medium-sized Yukon Gold weighs a little less than 8 ounces, so you'd need about 6 medium-sized Yukon Gold potatoes for this recipe.

•Ingredient Note: You can also prepare this recipe with other types of potatoes, including red potatoes, sweet potatoes or all-purpose potatoes. When you're mashing the potatoes and adding back the reserved broth, you may need more or less depending on the type of potatoes you used. A more waxy potato, like Yukon Gold, red potatoes or sweet potatoes, will absorb less liquid during cooking than a more starchy potato, like russet. The type of potato used will also affect the texture of the finished mashed potatoes. Russet or Yukon gold result in fluffier, creamier mashed potatoes.

•Make Ahead: Prepare as directed and cool completely. You can reheat in the oven or in the microwave. If using the oven, spoon the potato mixture into a casserole or baking dish. If using the microwave, spoon into a microwavable bowl. Cover and refrigerate up to 24 hours. To bake, heat the oven to 350 degree F. Bake, covered for 25 minutes or until hot. To microwave, heat, covered, on HIGH for 2 minutes or until hot. You can stir in an additional 1 tablespoon cream or softened butter after heating, if desired.

Please note that some ingredients and brands may not be available in every store.
Tops Friendly Markets Recipes
https://www.topsmarkets.com/Recipes/Detail/8768/