Tops Friendly Markets
Recipes
https://www.topsmarkets.com/Recipes/Detail/8744/Thanksgiving_Cheese_Board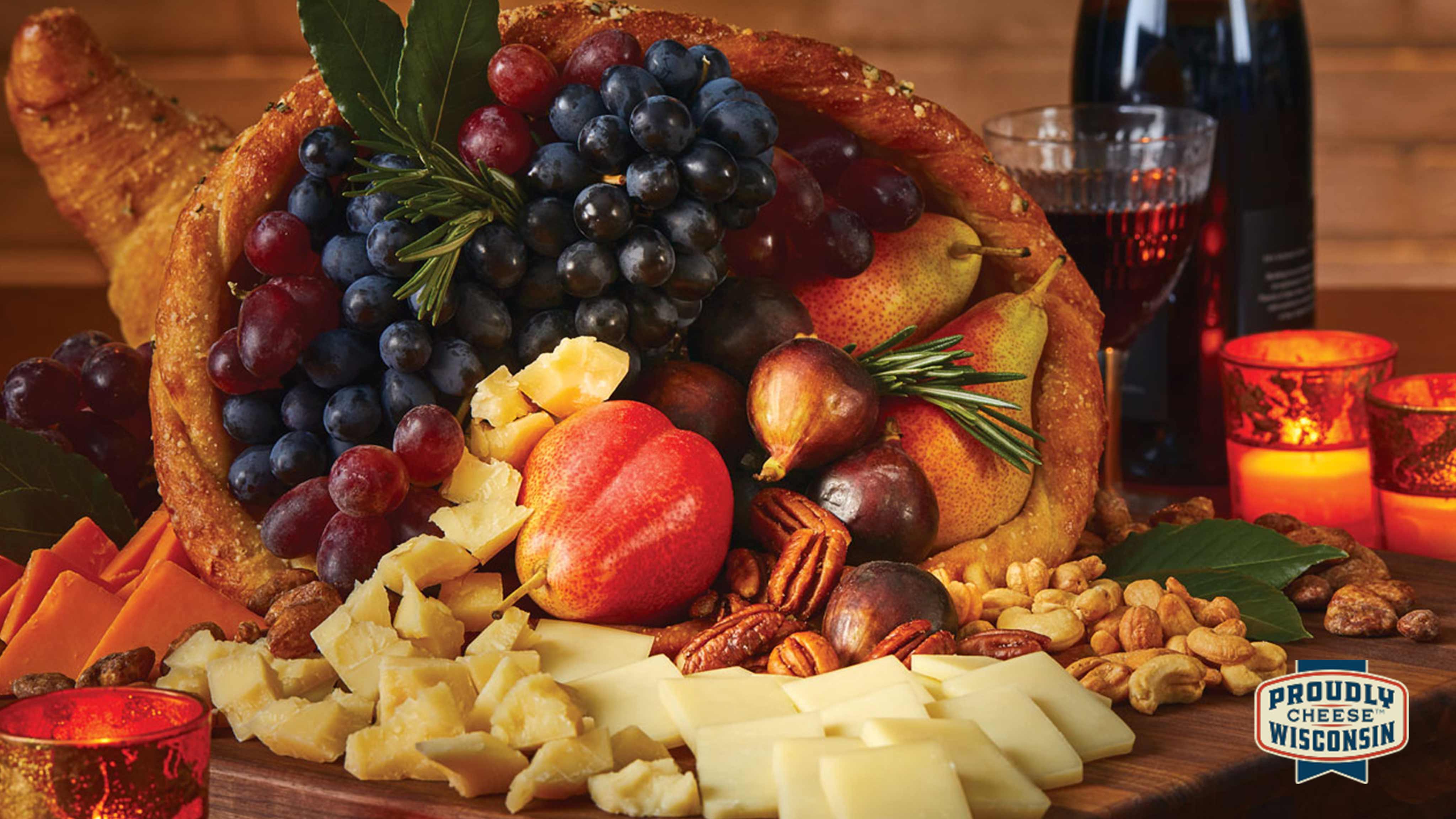 Thanksgiving Cheese Board

Yield: 6-8 servings
Preparation Time: and Active Time: 1 hour
Ingredients
Cornucopia:

3
tubes

(11 ounces each) refrigerated French bread dough, chilled

1

large egg, lightly beaten

4
tablespoons

butter, melted

1
teaspoon

garlic powder

1
ounce

Cello Parmesan cheese, grated (1/3 cup)

1
teaspoon

minced fresh rosemary

Cheese Board:

fresh pears

fresh seedless red and purple grapes

fresh figs

small apples

Widmer's Two Year Cheddar cheese

Cello Parmesan cheese

any brand Wisconsin Muenster cheese

candied or honey roasted almonds

candied pecans

whole cashews

bay leaves

fresh rosemary sprigs
Add To

Directions:
Cornucopia:
Heat oven to 350 degrees F. Line a 15 x 10-inch baking pan with parchment paper.

Fold a 36 x 18-inches piece heavy-duty aluminum foil in half widthwise. Roll up foil for cornucopia, loose cone shape, starting at a corner with opening about 8 x 6 inches. Fold extra foil inside cone. Stuff cone inside with additional foil. Bend tail end up into desired shape.

Place cone on prepared pan. Coat foil with cooking spray. Unroll one tube bread dough on a lightly floured cutting board. Cut dough widthwise into six strips, each 1 1/2-inches wide. Keep remaining dough refrigerated.

Wrap one strip around tail end of foil; pinch ends to seal. Wrap strips around foil, overlapping and stretching dough to cover. Repeat cutting and wrapping remaining dough; set aside two strips.

Twist reserved strips; pinch ends. Place on cornucopia opening, stretching to fit if necessary. Pinch dough at seams. Brush dough with egg wash.

Bake for 25 minutes. Remove from oven. (Pan will be hot!) Combine butter and garlic powder. Brush butter mixture on bread. Sprinkle with parmesan and rosemary. Bake for 10-15 minutes longer or until deep golden brown, covering loosely with foil if necessary. Cool completely on a wire rack.


Cheese Board:
Carefully loosen and remove foil from cornucopia; place on a serving board. Add the pears, grapes and figs. Arrange the cheddar, parmesan and muenster on the board. Fill in board with almonds, pecans, cashews, bay leaves and rosemary.
Please note that some ingredients and brands may not be available in every store.
Tops Friendly Markets
Recipes
https://www.topsmarkets.com/Recipes/Detail/8744/