Tops Friendly Markets
Recipes
https://www.topsmarkets.com/Recipes/Detail/8659/Chicken_Flautas_(Flautas_de_Pollo)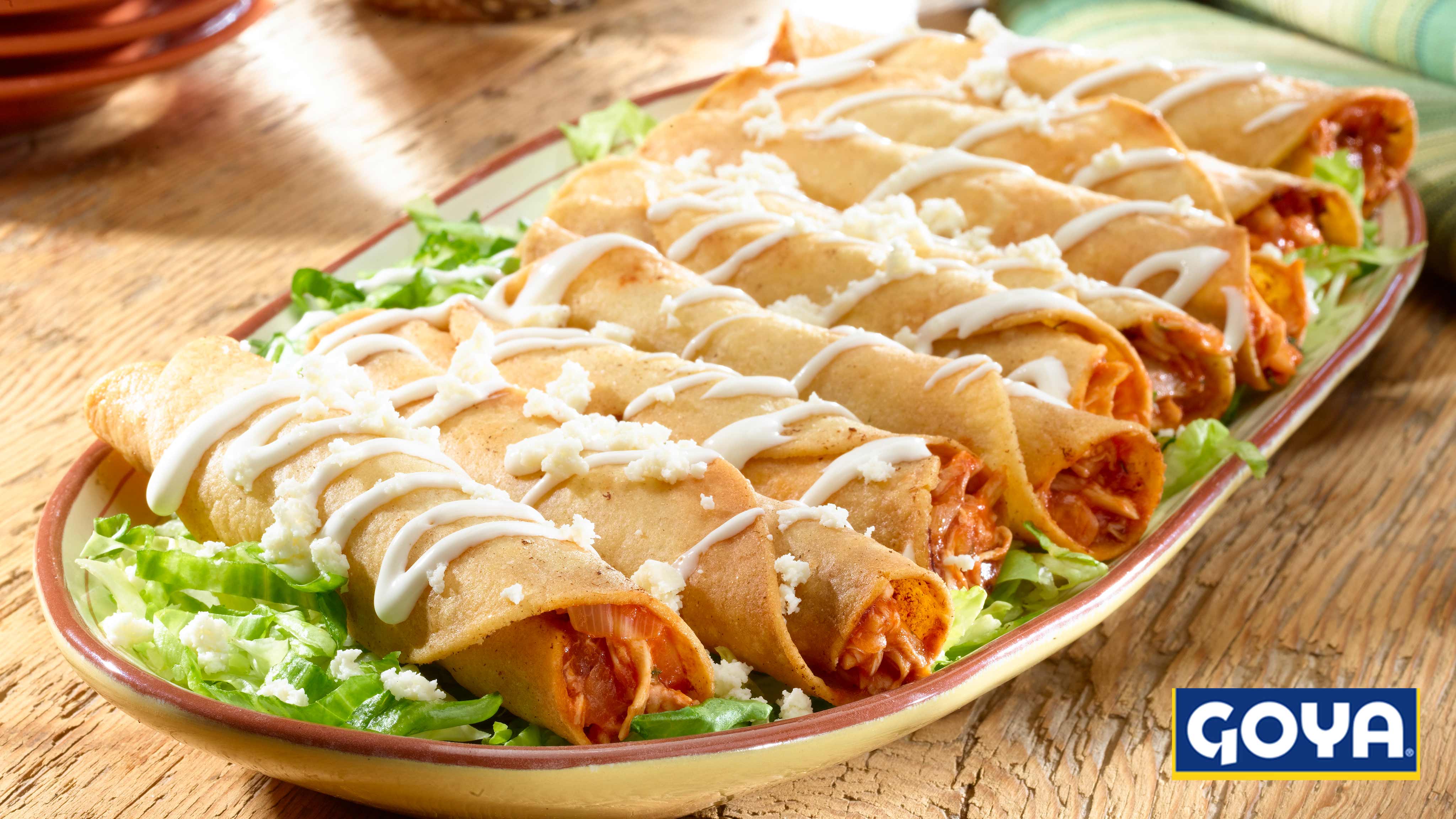 Chicken Flautas (Flautas de Pollo)

Tacos are an everyday event in Mexico with many different fillings. When tacos are rolled tightly and pan-fried until crisp so they resemble tubes or "flutes," they become flautas. This delicious, crunchy variation of tacos comes from Jalisco, Mexico, where it is a popular snack food. Here, chicken stewed with tomato sauce and onions is the filling of choice, but can be substituted for steak or pork. Whichever protein you choose, the flautas should be prepared and eaten right away for the best taste.
Yield: 8 servings
Preparation Time: 15 min; Total: 1 hour 15 min
Ingredients
1
cup

plus 2 tbsp. GOYA Vegetable Oil, divided

3/4

yellow onion, finely chopped (about 1 cup)

1
teaspoon

GOYA Minced Garlic or 2 cloves garlic, finely chopped

1
can

(8 ounce) GOYA Tomato Sauce

1/2
cup

water

2
cups

shredded chicken, (see tip below)

2
tablespoons

chopped fresh cilantro

GOYA Adobo All-Purpose Seasoning with Pepper, to taste

16

GOYA Corn Tortillas

shredded iceberg lettuce, for garnish

Mexican crema, or sour cream thinned with water to runny consistency, for garnish

shredded queso fresco, cotija or Monterey jack cheese, for garnish
Add To

Directions:
Step 1:
Preheat oven to 200 degrees F. Heat 2 tbsp. corn oil in medium skillet over medium- high heat. Add onions and garlic; cook, stirring occasionally, until onions are translucent, about 10 minutes. Add tomato sauce; pour water into empty tomato sauce can and swirl before adding to pan; bring to boil. Reduce heat to medium low; simmer, stirring occasionally, until sauce thickens slightly, about 2-3 minutes. Stir shredded chicken and cilantro into skillet; cook, stirring to coat chicken in sauce until mixture is warmed through; season with Adobo; remove from heat and set aside.

Step 2:
Heat remaining vegetable oil in medium skillet over medium-high heat until hot, but not smoking. Cook the tortillas quickly, one at a time, submerging completely in oil, until soft and pliable, but not crisp, about 5 seconds each; drain on paper towel.

Step 3:
To form flautas, spoon about 1 1/2 tbsp. chicken filling into center of tortilla; roll tightly to enclose filling, making cigar shape. Secure seam side of tortilla with toothpick. Repeat with remaining tortillas and chicken to make 16 flautas.

Step 4:
Reheat oil in skillet. Add prepared flautas to skillet seam side down, adding only as many as fit comfortably in pan without touching. Cook, flipping occasionally, until browned and crispy on all sides; about 5 minutes. Transfer to baking pan and keep warm in oven until remaining flautas are cooked.

Step 5:
To serve, arrange shredded lettuce on serving platter; top with flautas. Drizzle with crema and sprinkle with cheese.

How to prepare shredded chicken:
For the easiest shredded chicken, pick up a rotisserie chicken from your grocery store, remove the bones and skin, and shred with two forks. One whole rotisserie chicken generally yields about 4 cups shredded. To prepare 2 cups shredded chicken at home, transfer 1 1/2 lbs. bone-in, skin-on chicken breasts to medium pot; add cold water to cover completely; Add 1 packet GOYA Cubitos Chicken Bouillon and 1 bay leaf. Bring water to a boil, reduce heat to low and simmer for 30 minutes until meat is cooked through (internal temperature of 165 degrees F) and tender; let chicken cool in broth. When cool enough to handle, transfer to cutting board; remove and discard bone and skin. Using two forks, shred chicken. Reserve broth for a different use.

Recipe image provided by and used with permission of Goya Foods, Inc.
Please note that some ingredients and brands may not be available in every store.
Tops Friendly Markets
Recipes
https://www.topsmarkets.com/Recipes/Detail/8659/