Tops Friendly Markets
Recipes
https://www.topsmarkets.com/Recipes/Detail/8560/His_and_Hers_DIY_Pizza_Night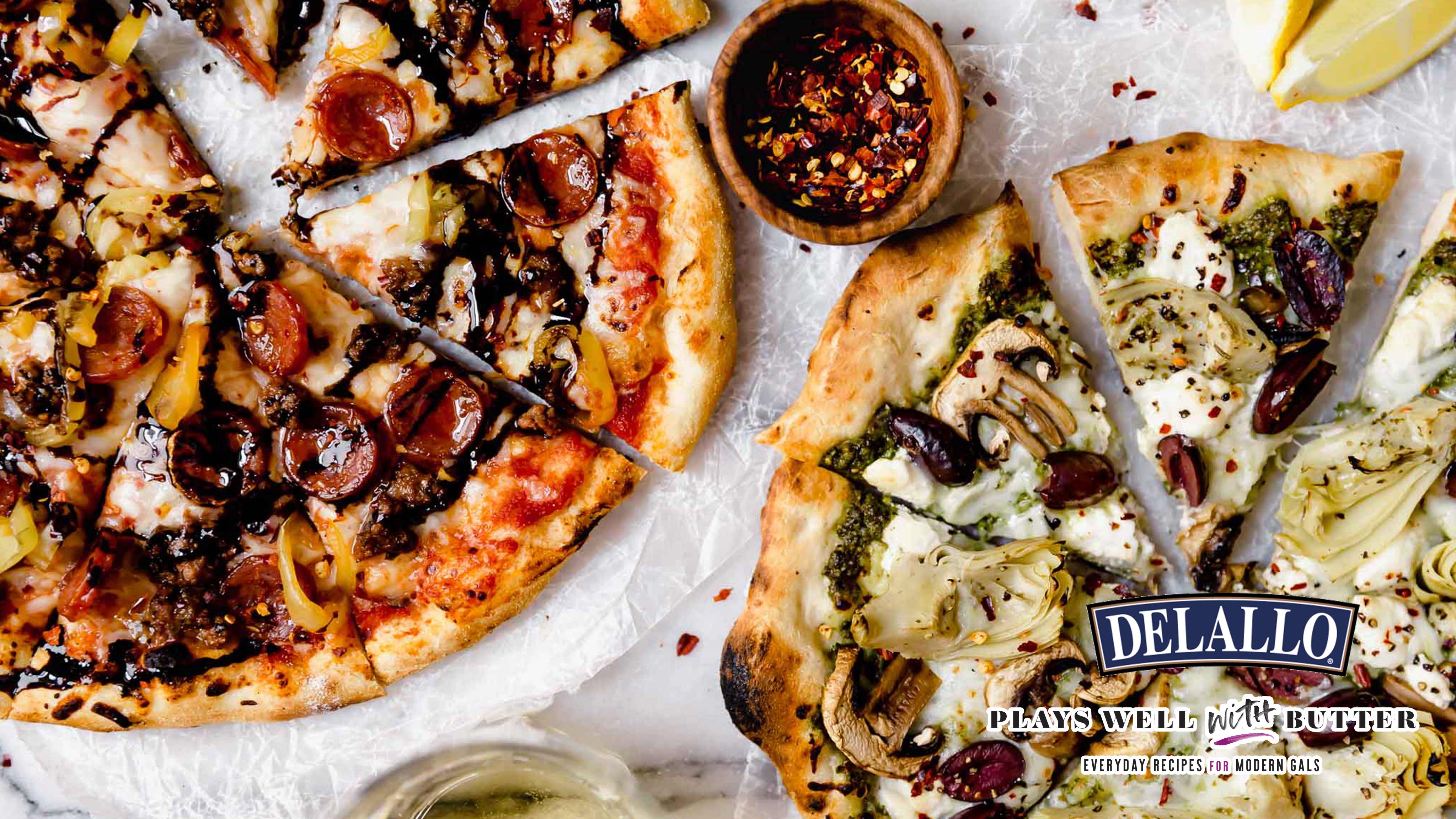 His and Hers DIY Pizza Night

Yield: Serves 2
Ingredients
for the pizza crust:

DeLallo Pizza Dough Kit

water

optional: olive oil

optional: flaky sea salt

His - Sausage & Pepperoni Pizza with Banana Peppers:

DeLallo Pizzeria-Style Pizza Sauce

Mozzarella cheese

Provolone cheese

DeLallo Mini Pepperoni, thinly sliced

Spicy Italian sausage, removed from the casing & crumbled into small pieces

Hot Banana Pepper Rings

Crushed red pepper flakes

DeLallo Modenacrem Balsamic Glaze

Hers - Vegetarian Pesto Pizza with Mushrooms, Artichokes and Olives:

DeLallo Squeeze Basil Pesto Topping

Mozzarella cheese

Provolone cheese

a sprinkle of crumbled goat cheese

DeLallo Grilled Artichoke Halves

DeLallo Calamata Olives in Jar, halved

a squeeze of lemon juice
Add To

Directions:
At least 1 hour prior to making your pizzas, prep the Pizza Dough Kit according to package instructions. We like to add an extra pinch of Kosher salt to help bring out the awesome flavor of the crust even more. Set aside to proof. Once the dough has proofed, preheat the oven to 450 degrees F.

Once the pizza dough is puffy and has doubled in size, transfer it to a lightly floured surface. Using a knife, bench scraper or pizza wheel, divide the dough into 4 pieces. Form each into a ball. Roll the dough balls into 10-inch rounds. (If you prefer a thicker crust, divide the dough into 2 pieces rather than 4).

Transfer each crust to a parchment-lined baking sheet. Top as desired:

For His - Sausage & Pepperoni Pizza with Banana Peppers:
Measure out the pizza sauce in a 1/4-cup measure. Pour the sauce onto the crust, using the back of the measuring cup to spread the sauce into an even, thin layer. Sprinkle a pinch of crushed red pepper flakes over the top, then add a couple of handfuls of cheese. Top with an even distribution of pepperoni, sausage and hot peppers.

For Hers - Vegetarian Pesto Pizza with Mushrooms, Artichokes & Olives:
Add 2-3 tablespoons of pesto to the pizza crust, using the back of a spoon to spread it into a thin, even layer. Sprinkle a couple of handfuls of cheese over top. Top with an even distribution of thinly layered sliced mushrooms, artichoke hearts, olives and goat cheese crumbles.

Place the baking sheets into the oven and bake for 15-20 minutes, until the crust is golden brown and the cheese is melted. Remove from the oven and allow to cool for 2-3 minutes before slicing and serving. Enjoy.

RECIPE NOTES:
Our favorite pizza cheese is a blend of shredded mozzarella and provolone. It melts nicely (but doesn't get too stretchy and chewy) and has good flavor. You can also add other cheeses for flavor: goat cheese, feta, parmesan, asiago, etc!

Pizza stone: If you have a pizza stone, definitely put it to use! Let it preheat along with your oven to make sure it's nice and hot once you transfered your pizza to it! Assemble your pizza on a semolina-dusted pizza peel. Once the oven is preheated, carefully slide the pizza right onto the stone. Bake for 15 - 20 minutes, until the cheese has melted and the crust is golden brown.

Recipe Courtesy of DeLallo and PlaysWellwithButter

Please note that some ingredients and brands may not be available in every store.
Tops Friendly Markets
Recipes
https://www.topsmarkets.com/Recipes/Detail/8560/His_and_Hers_DIY_Pizza_Night