Tops Friendly Markets
Recipes
https://www.topsmarkets.com/Recipes/Detail/8344/Queso_Fundido_with_Sausage_and_Caramelized_Onions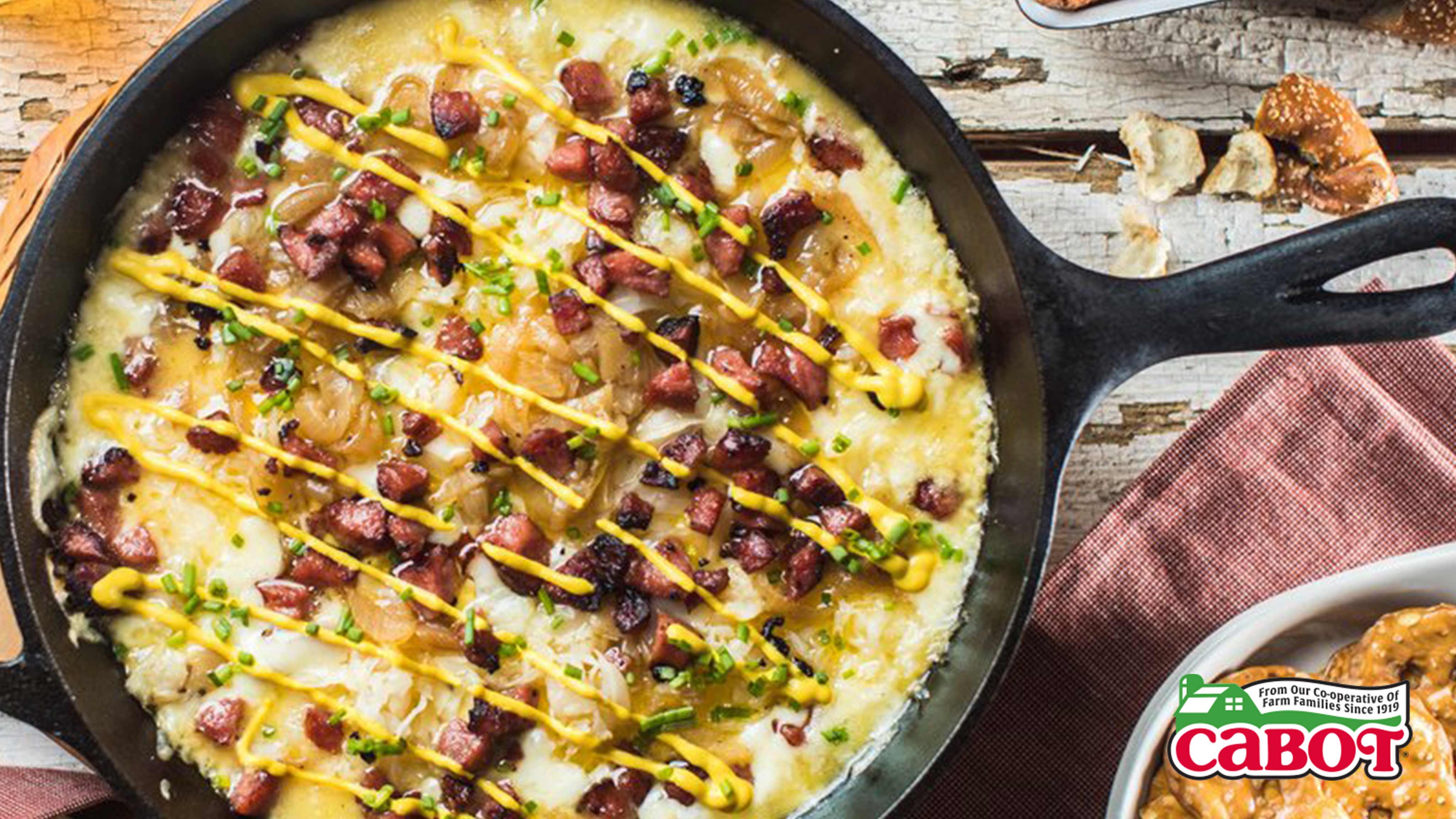 Queso Fundido with Sausage and Caramelized Onions

If you haven't had the pleasure of having Queso Fundido, a Mexican melted cheese sauce traditionally seasoned with chorizo and spices, you'll want to make our recipe! Made with caramelized onions, kielbasa sausage, lager beer, sauerkraut and a combination of Cabot Monterey Jack and Cabot Seriously Sharp Cheddar cheeses, it's packed with deliciousness. While Queso Fundido dip is usually served hot with tortillas or tortilla chips, we recommend trying it with Pretzel Crisps.
Yield: 12 servings
Ingredients
2
medium

onions, sliced into half moons

2
tablespoons

olive oil, divided

1/4
teaspoon

sea salt

3
tablespoons

lager beer

1 1/2
cups

diced kielbasa sausage

8
ounces

Cabot Monterey Jack Cheese, shredded (about 2 cups)

8
ounces

Cabot Seriously Sharp Cheddar, shredded (about 2 cups)

1/2
cup

drained sauerkraut

drizzle of bold and spicy deli mustard

pretzel crisps for serving
Order Ingredients on

*Instacart may not be available at all locations
Nutrition Facts
Yield: 12 servings
Approximate Nutrient Content per serving:
Calories:
130
Calories From Fat:
90
Total Fat:
10 g
Saturated Fat:
4.5g
Cholesterol:
25mg
Sodium:
230mg
Total Carbohydrates:
3g
Dietary Fiber:
0g
Protein:
6g
Directions:
Heat tablespoon of oil over medium heat in a heavy bottomed skillet and add the onions. Cook the onions for about 10 minutes letting the onions sit and caramelize on the bottom, add the sea salt and then stir. Let sit another 5 minutes, stir, wait 5 minutes, stir. Repeat this process until the all of the onions are a golden brown. Pour the beer in the skillet and deglaze the bottom, scraping any browned bits off. Once the liquid is dissolved, remove the onions to a bowl and set aside.

Add remaining 1 tablespoon of olive oil to the skillet and turn heat to medium high. Add sausage and cook, stirring occasionally until the sausage is browned and slightly crispy. Remove from heat.

Preheat oven to 400 degrees F.

Combine the shredded Monterey Jack cheese and Seriously Sharp Cheddar.

Spread half of the cheese in an even layer on the bottom of a clean 10• cast iron skillet. Top with 3/4 of the caramelized onions, 3/4 of the sausage and then the remaining cheese. Spread the sauerkraut over the top, followed by the remaining onions and sausage. Bake for 8 to 10 minutes, or until the cheese in the center is melted.

Remove from oven and drizzle with the deli mustard. Serve hot with the Pretzel Crisps and enjoy.
Please note that some ingredients and brands may not be available in every store.
Tops Friendly Markets Recipes
https://www.topsmarkets.com/Recipes/Detail/8344/Queso_Fundido_with_Sausage_and_Caramelized_Onions