Tops Friendly Markets
Recipes
https://www.topsmarkets.com/Recipes/Detail/8333/Stacked_Eggplant_Parmigiana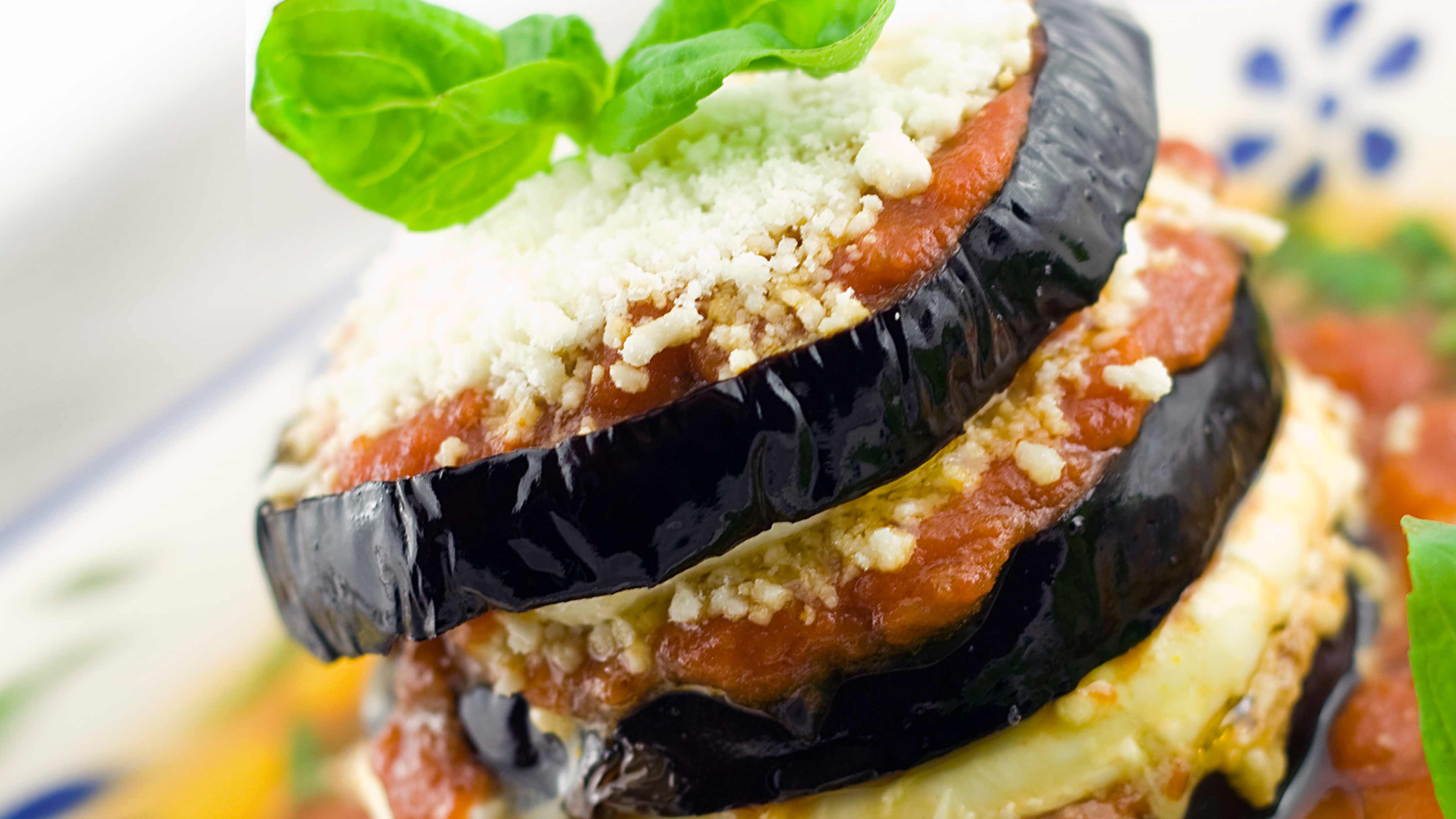 Stacked Eggplant Parmigiana

Customer Rating:
not rated
0 Ratings 1 Comment
Yield: 8-10 servings
Preparation Time: 30 min; Cook: 1 hour
Ingredients
Eggplant Prep:

2
cups

panko bread crumbs

1
teaspoon

dried basil

1/4
teaspoon

salt

1
cup

milk

2
medium

eggplants, cut into 1/3 inch rounds

Sauce:

2
tablespoons

olive oil

1
large

onion, chopped

2
tablespoons

dried basil

1/4
teaspoon

salt

1
can

(28 ounce) crushed tomatoes

1
can

(6 ounce) tomato paste

1
tablespoon

honey

1
tablespoon

minced garlic

1/2
cup

plus 1 tablespoon finely ground parmigiano reggiano

4
cups

shredded mozzarella cheese

1/2
cup

fresh basil leaves, slivered

parchment paper
Order Ingredients on

*Instacart may not be available at all locations
Directions:
Eggplant Prep:
Preheat oven to 375 degrees F. Lightly oil a baking sheet.

Mix Panko with 1 tsp dried basil and 1/4 teaspoon salt and spread onto a plate. Pour milk into a shallow bowl. Dip each eggplant slice into milk and turn to coat. Shake off excess. Press an eggplant slice down into the breadcrumbs. Flip and press the other side in to help the crumbs adhere. Arrange breaded eggplant on lightly oiled baking sheet. Repeat with the rest of the slices. Sprinkle eggplant slices with a pinch of salt and pepper. Bake in the oven for 25 minutes.

Flip slices and bake for another 15 minutes until the eggplant is softened and lightly browned in spots. Remove tray from oven and let eggplant cool for a few minutes.

Sauce (while the eggplant is baking, make the sauce):
Heat olive oil in a large pot over medium heat. Add chopped onion and cook for about 8 minutes until very soft and starting to brown. Stir in 2 Tbsp dried basil, 1/4 teaspoon salt, crushed tomatoes, tomato paste and honey. Cook sauce at a simmer, partially covered, for 20 minutes. Add minced garlic and simmer 10 minutes longer. Remove from heat.

Line a baking sheet with parchment paper. Divide the total number of eggplant slices by 3 and that's how many stacks you'll have. You should have enough for 8-9 stacks.

Arrange the largest eggplant rounds on the prepared parchment-lined pan. Top each round with two tablespoon of tomato sauce, a teaspoon of parmesan, 2 tablespoons of mozzarella, and a sprinkle of slivered basil. Repeat with two more layers, using the larger slices for the middle layer and the smaller ones for the top. Bake for 20 minutes. Garnish each stack with a sprinkle of slivered basil. Serve hot.
Please note that some ingredients and brands may not be available in every store.
Tops Friendly Markets
Recipes
https://www.topsmarkets.com/Recipes/Detail/8333/Stacked_Eggplant_Parmigiana