Tops Friendly Markets
Recipes
https://www.topsmarkets.com/Recipes/Detail/8096/Argentinean-Style_Chicken_Empanadas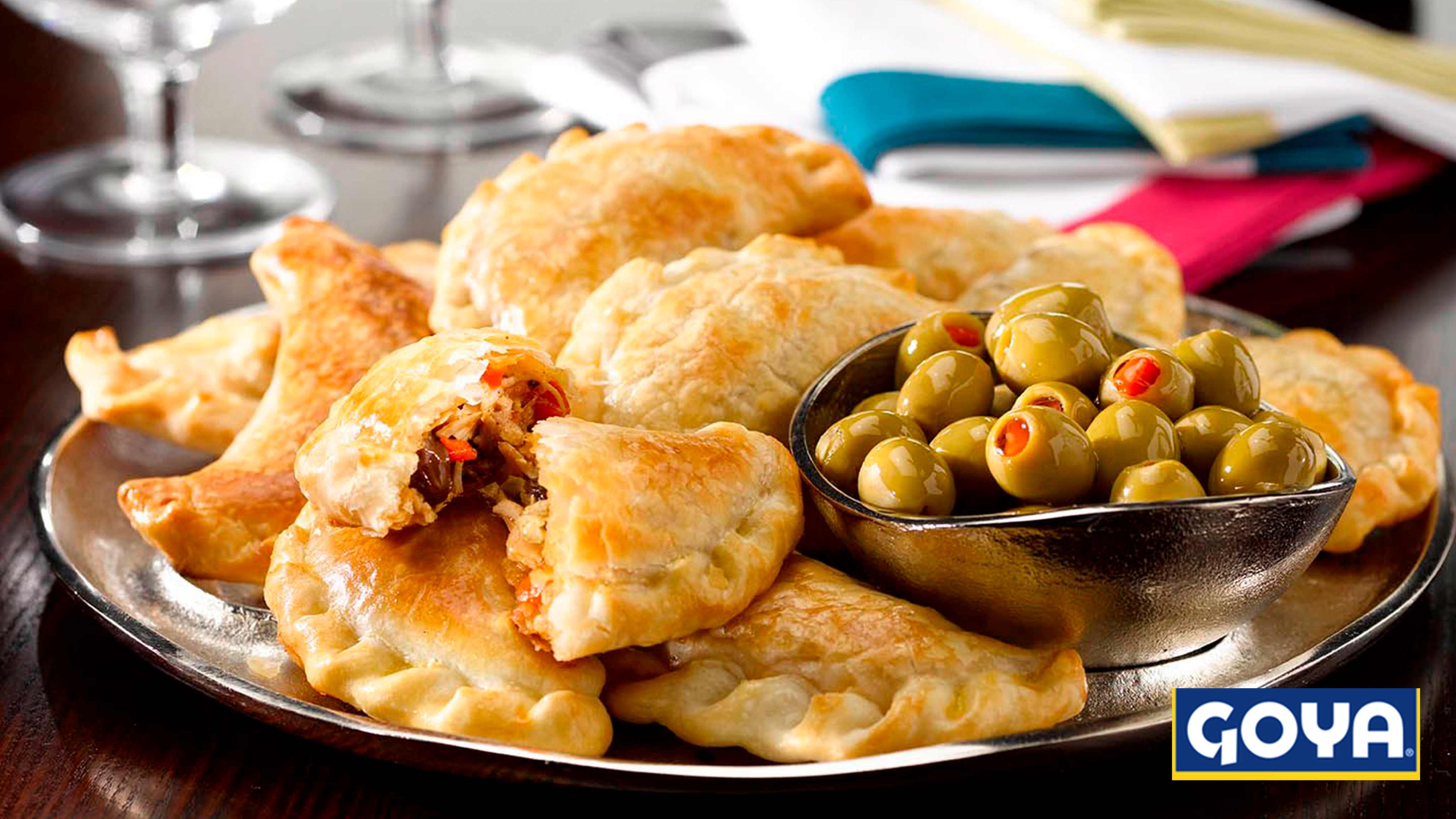 Argentinean-Style Chicken Empanadas

Empanadas Argentinas are chicken empanadas that Argentineans serve as appetizers at parties or as a simple, everyday lunch or dinner.

Empanadas Argentinas are always baked instead of fried, so your family can enjoy them regularly, too. Make them in no time with authentic, pre-prepared GOYA® Empanada Dough-Puff Pastry for baking.

These chicken empanadas--seasoned like empanadas you find in Buenos Aires--will delight anyone, no matter where you are.

Yield: 12 empanadas
Preparation Time: 10 min; Total: 1 hour 20 min
Ingredients
1
tablespoon

GOYA® Extra Virgin Olive Oil

4

bone-in, skin-on chicken thighs (about 2 1/2 pounds)

GOYA® Adobo All-Purpose Seasoning with Pepper, to taste

1
package

(3.5 ounce) GOYA® Chorizo, finely chopped

1/2

onion, finely chopped (about 3/4 cup)

1
teaspoon

GOYA® Minced Garlic or 2 cloves garlic, finely chopped

1/2
teaspoon

paprika

1/4
cup

GOYA® Manzanilla Olives Stuffed with Minced Pimientos, chopped (about 12 olives)

1/4
cup

raisins

1
packet

GOYA® Chicken Flavored Bouillon, mixed with 1 cup water

1
package

(11.6 ounce) GOYA® Empanada Dough-Puff Pastry for baking, thawed

All-purpose flour, for rolling out dough

1

egg, lightly beaten with 1 teaspoon water
Add To

Directions:
Heat oil in large skillet over medium-high heat. Season chicken with Adobo. Add chicken to skillet skin side-down. Cook, flipping once, until golden brown on both sides, about 8 minutes; transfer to plate. Add chorizo and onions to same skillet. Cook, stirring occasionally, until chorizo is warmed through and onions are soft, about 4 minutes. Stir in garlic and paprika, cook until fragrant, about 30 seconds more. Add olives, raisins and chicken bouillon mixture to skillet; bring to boil. Add chicken skin side-up. Tightly cover skillet; reduce heat to low. Simmer, covered, until chicken is cooked through, about 20 minutes. Remove skillet from heat.


Transfer chicken to cutting board; reserve sauce in pan. Remove and discard skin and bones. Shred chicken; transfer to skillet with sauce, mixing to combine. Cook over medium heat until sauce reduces and blends into chicken, about 5 minutes more. Transfer chicken mixture to heat-proof bowl. Let sit until steam subsides. Refrigerate until cold. (Note: Chicken filling can be stored covered in refrigerator for up to 5 days).


Heat oven to 425 degrees F. On lightly floured work surface, using rolling pin, roll out puff pastry round until about 1/2-inch larger in diameter. Spoon heaping tablespoon cooled chicken mixture into middle of dough. Moisten edges with beaten eggs and fold in half to form half-moon shape. Gently press down edges and twist to seal; transfer to greased baking sheet. Repeat with remaining puff pastry rounds and filling to make 12 empanadas. Brush empanada tops with beaten egg.


Bake until empanadas are puffed and golden brown and filling is hot, about 20 minutes, rotating pan after 10 minutes for even browning. Transfer empanadas to cooling rack. Serve warm or at room temperature.
Recipe image provided by and used with permission of Goya Foods, Inc.

Please note that some ingredients and brands may not be available in every store.
Tops Friendly Markets
Recipes
https://www.topsmarkets.com/Recipes/Detail/8096/