Tops Friendly Markets
Recipes
https://www.topsmarkets.com/Recipes/Detail/8059/Chef_Darian%60s_Jerk_Lobster_with_Grilled_Pineapple_Salsa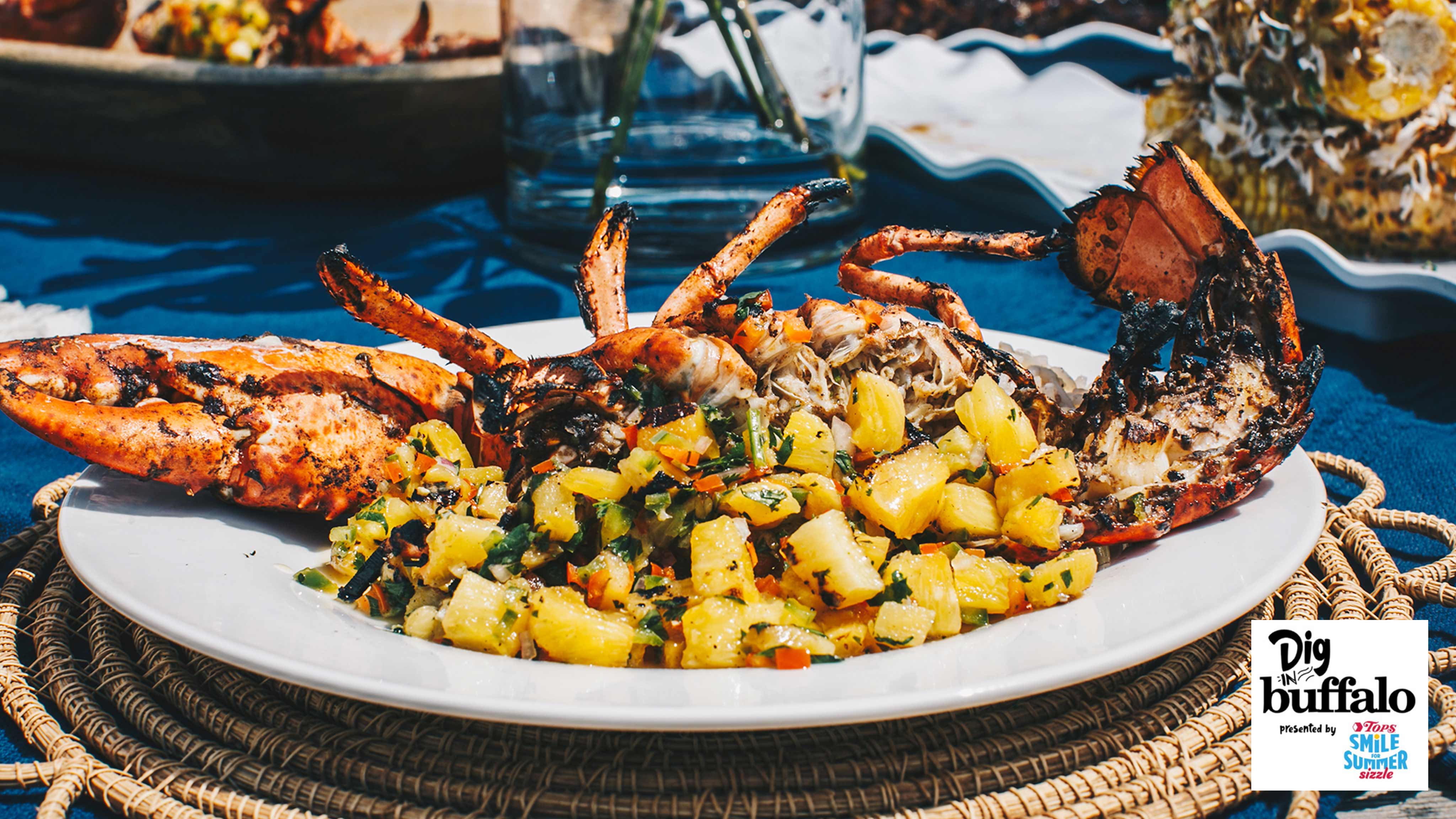 Chef Darian's Jerk Lobster with Grilled Pineapple Salsa

Yield: 2 servings
Ingredients
Jerk Marinade and Lobster:

2

whole lobsters

4

scallions, trimmed

4
sprigs

fresh thyme

3

Scotch bonnet peppers

1
teaspoon

allspice or pimento seeds

2
tablespoons

brown sugar

1

large orange, juiced

1/4
cup

soy sauce

1/4
cup

white vinegar

2
tablespoons

oil

4
cloves

garlic

1

large yellow onion

1

small lime or lemon, juiced

1
tablespoon

fresh ginger

1
teaspoon

cinnamon

1
teaspoon

nutmeg

kosher salt and black pepper, to taste

Grilled Pineapple Salsa:

1

large pineapple, peeled and cored

1

red bell pepper, seeds removed

1

jalapeno pepper - leave the seed in for extra heat

1/2
cup

red onion

1
tablespoon

fresh cilantro

1/4
teaspoon

fresh lime juice

1
tablespoon

extra virgin olive oil, plus extra for grilling

1
teaspoon

sugar

apple cider vinegar, to taste

kosher salt and freshly ground black pepper, to taste
Add To

Directions:
Preparation For Jerk Marinade and Lobster:
Place all the ingredients (except lobster) into a food processor or blender. Blend until completely smooth.

Cut lobsters in half lengthwise. Marinate lobster in 1 cup jerk marinade for at least 3 hours. Carefully pierce holes in the claws with a knife to allow the marinade to soak in.

Oil the grill before putting the lobster on, meat side down. Grill on high until cooked through.

Preparation For Pineapple Salsa:
Preheat your grill. Cut peeled and cored pineapple into 1/2-inch-thick slices. Brush with oil then grill until the pineapple gets some char - this helps to enhance the flavor!

Once cool enough to touch, chop grilled pineapple up into small pieces. Chop the red bell pepper, jalapeno, red onion and cilantro.

In a medium bowl, combine grilled pineapple with the chopped red bell pepper, jalapeno, red onion, cilantro, lime juice, olive oil, sugar, apple cider vinegar, salt and pepper. Taste for salt and extra seasoning, adjust accordingly.

Top grilled lobster with pineapple salsa, being sure to pour over some of the juices as well. Enjoy!

"You should have that char, it's jerk!"

Please note that some ingredients and brands may not be available in every store.
Tops Friendly Markets
Recipes
https://www.topsmarkets.com/Recipes/Detail/8059/