Tops Friendly Markets
Recipes
https://www.topsmarkets.com/Recipes/Detail/8043/Kafta_Kabab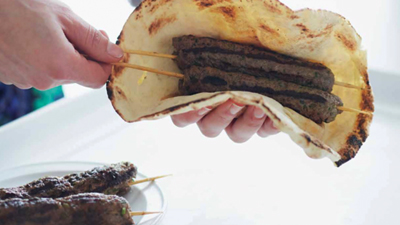 Kafta Kabab

Yield: 6 servings (12-14 skewers)
Ingredients
1

large yellow onion

3
sprigs

fresh flat-leaf parsley, stemmed, leaves finely minced

2
pounds

finely ground lean lamb, beef or a combination of both

1
teaspoon

sea salt

1/2
teaspoon

freshly ground black pepper

1/2
teaspoon

ground allspice

12 to 14

wooden or metal skewers (if using wooden skewers, presoak in water for 30 to 60 minutes)
Order Ingredients on

Directions:
Preheat a grill to high, or if using an oven, preheat to 450 degrees F

Quarter the onion and finely mince in a food processor. Transfer the minced onions in a fine-mesh sieve set over a bowl, and press down on the onions to remove any excess liquid. Discard the liquid and set the onions aside. Add the parsley to the food processor and pulse to finely chop. Return the drained onions to the food processor bowl. Add the ground meat and season with the salt, pepper and allspice. Process to thoroughly blend all the ingredients, periodically pausing the processor to push the meat down and scrape it from the bottom and sides of the bowl. Transfer the meat mixture to a large mixing bowl.

Using your hands, mix the meat mixture together to make sure that all ingredients are evenly incorporated.

Make the kafta kababs: Working in 1/3- cup portions, mold the meat mixture into a long sausage-like shape, about 6 inches in length. Then, roll the meat in between your palms to a thickness of about 1 1/2 inches. Using the sharp end of the skewer, pierce through one end of the kabob and slide it through the other end; the meat should be about 1- inch away from the sharp tip of the skewer. Squeeze the meat one more time to ensure that it tightly adheres to the skewer. Continue making kabobs in the same manner with the remaining meat mixture. You should end up with 12 to 14 skewers.

If using a grill, lightly brush it with oil. Place the kafta kabobs on the grill over a medium flame and cook, turning them periodically so that they cook evenly, 4 to 5 minutes per side, being careful not to overgrill them.

If roasting in the oven, place the kabobs on a lightly oiled baking sheet, spacing them evenly apart, and roast on the middle rack of the oven for 12 to 15 minutes, turning them over halfway through the roasting time.

Serve hot.


Recipe and image used with permission by Julie Ann Sageer of Julie Taboulie's Lebanese Kitchen.
Please note that some ingredients and brands may not be available in every store.
Tops Friendly Markets
Recipes
https://www.topsmarkets.com/Recipes/Detail/8043/Kafta_Kabab