Tops Friendly Markets
Recipes
https://www.topsmarkets.com/Recipes/Detail/8010/Mediterranean_Flatbread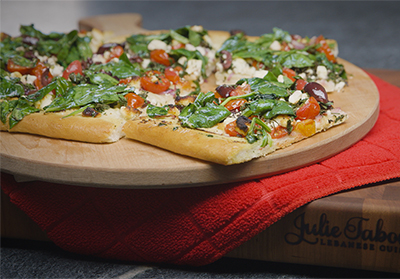 Mediterranean Flatbread

Heirloom tomato, olive, fresh-herb and feta cheese pie
Yield: 6 servings
Ingredients
1
pound
Tops ready-to-bake pizza dough, thawed in package at room temperature

1/4
cup
unbleached, all purpose flour

1/3
cup
extra virgin olive oil

6
cloves
garlic, mashed into a smooth paste

1
small red onion, thinly sliced

1/2
cup
Kalamata olives, sliced in half

1/2
cup
heirloom cherry tomatoes, stemmed and sliced in half

1
cup
feta cheese, crumbled

1
bunch
(small) fresh flat-leaf parsley leaves, finely chopped

1
bunch
(small) fresh mint leaves, finely chopped

3
sprigs
fresh thyme, leaves picked and left whole

1 1/2
cups
baby arugula, left whole

1 1/2
cups
baby spinach leaves, left whole

2
Tablespoons
freshly squeezed lemon juice

1/2
teaspoon
sea salt
Order Ingredients on

Directions:
Preheat the oven to 450 degrees F

Lightly flour a clean and dry work surface and place the dough in the center, sprinkling a little flour on top. Press down into the dough with your fingertips to flatten, then stretch it out into a smooth and oblong flat shape, making sure not to pull so hard as to create holes.

Place the flattened dough on the floured work surface and, using a thin rolling pin, roll it out until it is smooth and about 9 to 12 inches long and 1/2 inch thick. Be sure to release any small air pockets in the dough and make sure it is smooth with no holes.

Lightly grease the bottom of a 13 x 18 sheet pan with 1 tablespoon of the olive oil. Carefully transfer the rolled-out dough onto the sheet pan and spread it out evenly using your fingers, then smooth the dough by gently pressing down using the palms of your hands.

Brush the dough with 2 tablespoons of the olive oil and spread half of the garlic paste over the oil. Layer the onions, olives, and tomatoes evenly onto the dough, starting in the center and working your way around to the edges until the whole dough pie is covered with the ingredients. Crumble the feta cheese all over the vegetables and sprinkle the fresh herbs on top.

Place the sheet pan on to the center rack of the preheated oven and bake for approximately 20 to 25 minutes until the tomatoes are blistered, and the flat bread is lightly golden brown. The edges should be crispy, and the pie will be very aromatic. Immediately remove from the oven and lightly brush the edges with 1/2 tablespoon of the olive oil.

In a large mixing bowl combine the arugula and spinach, the remaining garlic paste and the remaining olive oil, lemon juice and salt, and lightly toss together. Spread the arugula and spinach mixture all over the top of the flatbread.

Slice and serve hot, warm or at room temperature.
Variation:
You can also use TOPS Ready-to-Bake Pizza Dough, flatbread, pocket-less pita or naan bread.

Recipe and image used with permission by Julie Ann Sageer of Julie Taboulie's Lebanese Kitchen.
Please note that some ingredients and brands may not be available in every store.
Tops Friendly Markets
Recipes
https://www.topsmarkets.com/Recipes/Detail/8010/Mediterranean_Flatbread