Tops Friendly Markets
Recipes
https://www.topsmarkets.com/Recipes/Detail/7929/Nutter_Butter_Thanksgiving_Cupcakes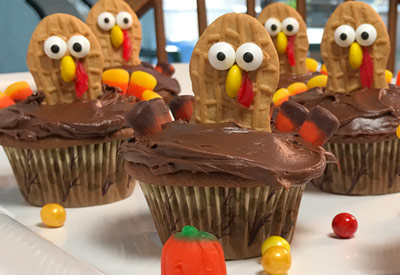 Nutter Butter Thanksgiving Cupcakes

Yield: 20 servings
Ingredients
Cupcakes:
1
box
cake mix

1
container
chocolate frosting OR homemade frosting

Turkey Cookies:
20
Nutter Butter peanut butter cookies

40
candy eyes

10
Reeses pieces, cut in half

1
strand
red licorice

Cupcake Assembly:
140
pieces
candy corn
Directions:
Cupcakes:
Prepare cupcakes following the directions on the box, but fill the cupcake liners with a little extra batter so you end up with a total of 20 cupcakes. Frost the cupcakes when they've cooled completely.

While the cupcakes are baking, assemble the turkeys.

Turkey Cookies:
Using a toothpick, apply a dab of peanut butter to the backs of two eyes and attach side by side to the upper portion of a Nutter Butter cookie.

Apply a dab of peanut butter to the cut side of a Reeses piece (turkey beak) and place on the cookie just below the eyes.

Cut a 1/4 to 1/2 inch strip of licorice (turkey waddle) with kitchen shears and apply to the right side of the "beak" using peanut butter.

Repeat these steps to make 20 turkey cookies.

Cupcake Assembly:
Use a knife to make a small slit in the top center of each frosted cupcake and insert a turkey cookie.

Insert candy corn (7 per cupcake) with the narrow tip downward in a fan-like manner around the back half of the cupcake to resemble tail feathers.

Note:
Cupcakes may be baked and Turkey Cookies may be decorated a day in advance, but wait until closer to serving time, to assemble the turkey cupcakes.

Please note that some ingredients and brands may not be available in every store.
Tops Friendly Markets
Recipes
https://www.topsmarkets.com/Recipes/Detail/7929/Nutter_Butter_Thanksgiving_Cupcakes