Tops Friendly Markets
Recipes
https://www.topsmarkets.com/Recipes/Detail/7922/English_Muffin_Thanksgiving_Turkey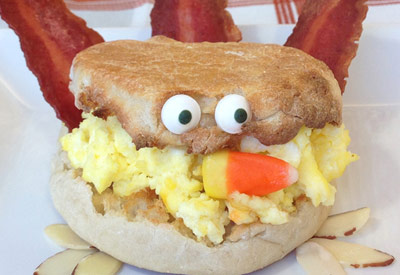 English Muffin Thanksgiving Turkey

Yield: 1 serving
Preparation Time: 15 minutes
Ingredients
1
English muffin, toasted

3
slices
cooked bacon

2
eggs, scrambled

2
candy eyes

1
candy corn

6
sliced almond pieces
Directions:
In the bottom half of the English muffin, make three small slits towards the outer edge and insert the cooked bacon to resemble tail feathers.

Heap the scrambled egg onto the English muffin.

With a toothpick, place a dab of peanut butter on the back of each candy eye and attach the eyes into the outer edge of the remaining English Muffin half.

Place the top of the English muffin onto the eggs being careful to not disturb the placement of the bacon.

Insert the candy corn below the eyes and into the scrambled eggs to serve as the beak.

Place three sliced almond pieces slightly underneath the English muffin and fan out to resemble a turkey foot. Repeat on the opposite side for the other foot.



Source: Pinterest for Thomas English Muffins
Please note that some ingredients and brands may not be available in every store.
Tops Friendly Markets
Recipes
https://www.topsmarkets.com/Recipes/Detail/7922/English_Muffin_Thanksgiving_Turkey