Tops Friendly Markets
Recipes
https://www.topsmarkets.com/Recipes/Detail/7795/Roasted_Garlic_and_Potato_Soup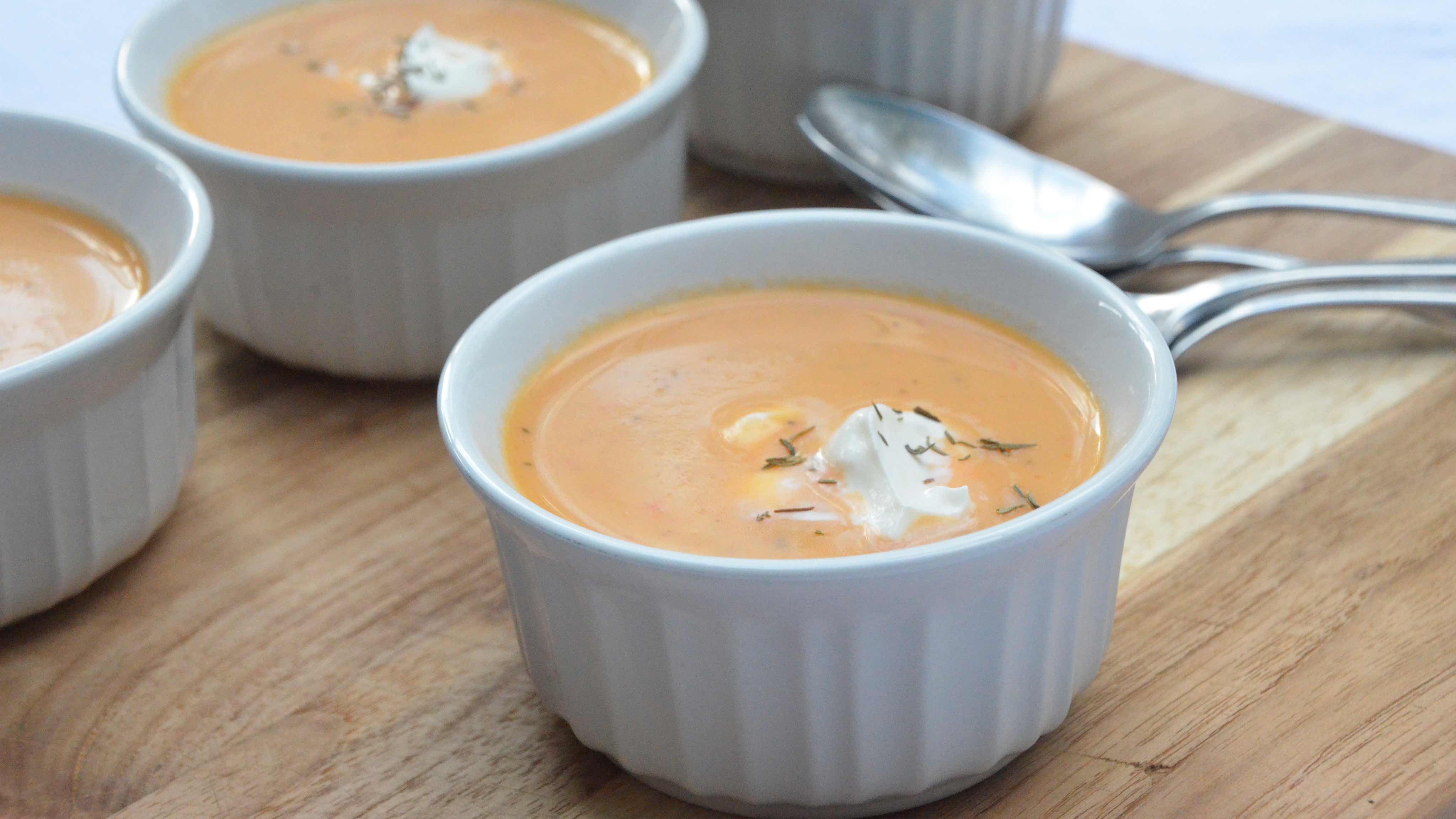 Roasted Garlic and Potato Soup
Yield: 4 servings
Preparation Time: and Total Time: 1 hr, 15 min
Ingredients
1

large garlic bulb (about 3 ounces)

2
teaspoons

olive oil

1

medium onion, chopped

1

red bell pepper, chopped

1 1/2
cups

vegetable broth

1 1/2
cups

water

1/2
teaspoon

salt

1/4
teaspoon

dried thyme

1/4
teaspoon

black pepper

1/2
cup

instant mashed potatoes

1
cup

milk

Garnish:

Sour cream

Dried thyme or fresh thyme sprigs
Add To

Directions:
Preheat oven to 350 degrees

Wrap garlic in foil and place on middle oven rack. Bake 45 minutes, until garlic is tender. When cool enough to handle, unwrap, cut top off garlic bulb and squeeze the garlic from each clove; discard the papery skin.

In a large saucepan, over medium heat, heat oil. Add onion and red pepper and cook about 10 minutes, until onion and pepper is tender, stirring frequently.

Add broth, water, salt, thyme, black pepper and roasted garlic and bring to a boil. Reduce to a simmer, cover and cook 10 minutes allowing flavors to meld. Remove from heat. Use an immersion (or stick) blender to puree the contents in the pan.

Return pan to stove top and whisk in instant mashed potatoes. Over low heat, cook about 3 minutes, just until thickened. Stir in milk and continue to cook over low heat until soup is hot.

To serve, spoon into serving bowls and top each with a dollop of sour cream and dried or fresh thyme.
Note: Soup can also be served cold. After stirring in the instant potatoes and mixture has thickened, remove pan from heat. Stir in the milk, cool slightly. Cover and refrigerate at least 4 hours, until well chilled.

Recipe adapted from the Idaho Potato Commission
Photo and styling by Webstop

Please note that some ingredients and brands may not be available in every store.
Tops Friendly Markets
Recipes
https://www.topsmarkets.com/Recipes/Detail/7795/