Tops Friendly Markets
Recipes
https://www.topsmarkets.com/Recipes/Detail/7762/Grilled_Pizza_with_Sweet_Italian_Sausage%2c_Mushrooms_and_Onions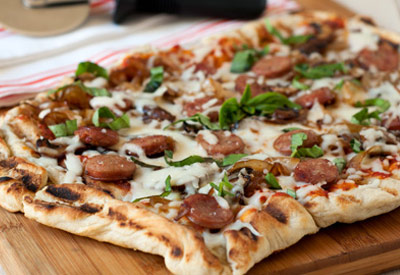 Grilled Pizza with Sweet Italian Sausage, Mushrooms and Onions

Why fuss with a hot oven in the summer when pizza is so easy to make on the grill? This classic combination of sausage, mushrooms, and onions can be easily adapted with your own favorite toppings.

Yield: 8 servings (makes 4 12-inch pizzas)
Ingredients
Pizza Dough:

4 1/2
cups

flour, plus more for kneading (Divided)

3
packages

rapid rise yeast

1
Tablespoon

granulated sugar

1
teaspoon

salt

2
cups

very warm water

1/2
cup

extra cup virgin olive oil

Pizza Sauce:

2
cans

(14 ounces each) diced tomatoes

1
can

(6 ounces) tomato paste

1
teaspoon

garlic powder

1
teaspoon

dried basil

1
teaspoon

dried oregano

1/2
teaspoon

red pepper flakes (optional)

Toppings:

2
Tablespoons

extra virgin olive oil

1

large sweet onion, cut into thin half moons

8
ounces

mushrooms, sliced

1
package

Prairie Grove Farms Sweet Italian Sausage (4 links), sliced

1
pound

shredded mozzarella cheese

8
leaves

fresh basil (large), thinly sliced
Add To

Nutrition Facts
Yield: 8 servings (makes 4 12-inch pizzas)
Approximate Nutrient Content per serving:
Calories:
689
Calories From Fat:
324
Total Fat:
36.2g
Saturated Fat:
11.8g
Cholesterol:
64mg
Sodium:
961mg
Total Carbohydrates:
66g
Sugars:
11.8g
Protein:
39.5g
Directions:
Pizza Dough:
Combine 3 cups of the flour with the yeast, sugar, and salt in a large bowl and stir together. Add the water and olive oil and stir until everything is combined. Add the remaining flour and stir until smooth. If dough is still sticky, add a bit more flour, and then knead for a few minutes. Divide the dough into 4 balls and set aside, covered with a kitchen towel, while you prepare the toppings.

Pizza Sauce:
Combine the tomatoes with the tomato paste, garlic powder, basil, oregano, and red pepper flakes in a medium saucepan. Cook, uncovered, for 15 minutes, and then puree the pizza sauce in a blender or food processor or using a stick blender in the pan.

Toppings:
Add 2 tablespoons of olive oil to a large skillet over medium high heat. Add the onions and cook, stirring occasionally, until soft, about 10 minutes. Add the mushrooms and continue cooking until the mushrooms are soft and the onions are nicely browned, about 10 minutes more. Remove to a bowl and set aside.

Add the sliced sausage to the same skillet and cook over medium high heat for a few minutes to brown the sausage. Drain on paper towels.

Heat the grill to high heat. While the grill is heating, stretch or roll out the pizza dough into 4 pizzas. Lay them on well-oiled baking sheets and take them, along with all of the toppings and some extra olive oil, to the grill.

Reduce the heat to low and lay the pizza crusts, oiled side down, on the grill. Cover and cook until lightly browned and cooked on the first side, about 3 to 5 minutes, checking frequently to pop any bubbles that might form. When the first side is cooked, brush the uncooked side with olive oil and then flip the crusts.

Spread each crust with about 1/3 cup of pizza sauce and then top the pizzas with half of the cheese. Divide the mushroom and onion mixture between the 4 pizzas, and then divide the sliced sausage between the 4 pizzas. Top with the remaining cheese, cover the grill, and cook until the bottom sides of the crusts are nicely browned and the cheese is fully melted, about 5 to 10 minutes longer. Garnish with fresh basil before serving.

Notes
The pizza dough and sauce can be made the day before and refrigerated until you are ready to use them. Or, if pressed for time, purchase prepared pizza dough and prepared pizza sauce instead of making your own. Refrigerate extra pizza sauce for up to a week or freeze up to 3 months.

Source: Photo and recipe by Prairie Grove Farms

Please note that some ingredients and brands may not be available in every store.
Tops Friendly Markets Recipes
https://www.topsmarkets.com/Recipes/Detail/7762/