Tops Friendly Markets
Recipes
https://www.topsmarkets.com/Recipes/Detail/7682/30_Minute_Pork_Tenderloin_with_Pomegranate_Sauce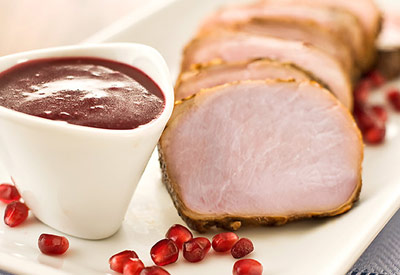 30 Minute Pork Tenderloin with Pomegranate Sauce

Yield: 6 servings
Preparation Time: and Total Time: 30 min
Ingredients
2
pounds

pork tenderloin

1/2
teaspoon

salt

1
teaspoon

ground pepper

3
Tablespoons

butter, divided

1/2
teaspoon

cornstarch

2
teaspoons

raspberry vinegar

1
teaspoon

ground cumin

1/2
teaspoon

ground cinnamon

2
Tablespoons

olive oil

1
cup

pomegranate juice

1
Tablespoon

water

Garnish with:

Fresh pomegranate seeds
Add To

Directions:
In a shallow dish whisk together cumin, salt, pepper and cinnamon. Pat tenderloins dry and roll in spice mixture until evenly coated.

In a large skillet over medium-high heat, heat oil and 2 tablespoons butter. Sear pork in skillet and reduce heat to medium and continue cooking until pork is thoroughly cooked and browned on all sides (approximately 18 minutes and when a meat thermometer reads 145 degrees F when inserted in the middle of the tenderloin). Remove from skillet and allow to rest for 10 minutes.

Pour off any excess fat from the skillet and add pomegranate juice. Bring to a boil and continue to boil over high heat until the juice has reduced to about 3/4 cup.

In a small bowl stir together cornstarch and water then whisk into the juice. Boil the sauce until thick. Remove from heat and whisk in the raspberry vinegar. Finish off with a tablespoon of butter and stir until melted. Season with salt.

Slice pork and serve with sauce. Garnish with fresh pomegranate seeds.
Recipe and Image Source: The Smithfield Packing Co.
Please note that some ingredients and brands may not be available in every store.
Tops Friendly Markets
Recipes
https://www.topsmarkets.com/Recipes/Detail/7682/