Tops Friendly Markets
Recipes
https://www.topsmarkets.com/Recipes/Detail/7654/Grilled_Steak_with_Arugula_Pesto_and_Vodka_Tomato_Sauce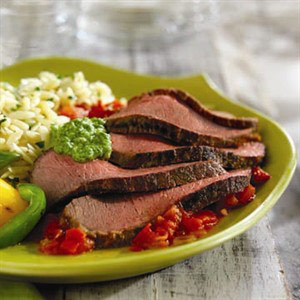 Grilled Steak with Arugula Pesto and Vodka Tomato Sauce

Yield: 6 servings
Preparation Time: and Total Time: 1 hr
Ingredients
1

beef top round steak, cut 3/4- inch thick (about 1 pound)

1
Tablespoon

olive oil

1
cup

chopped onion

2
pounds

tomatoes, seeded, chopped

1/4
cup

vodka

Salt

Pepper

Parmesan cheese (optional)

Arugula Pesto:

2
cups

packed arugula leaves (about 2 ounces)

2
Tablespoons

toasted unblanched sliced almonds

2
cloves

(large) garlic

1
Tablespoon

fresh lemon juice

1/2
teaspoon

freshly grated lemon peel

1/3
cup

olive oil

Salt

Pepper
Add To

Nutrition Facts
Yield: 6 servings
Approximate Nutrient Content per serving:
Calories:
462
Calories From Fat:
252
Total Fat:
28g
Saturated Fat:
5g
Cholesterol:
61mg
Sodium:
52mg
Total Carbohydrates:
15g
Dietary Fiber:
3.8g
Protein:
3g
This recipe is an excellent source of niacin, vitamin B6, vitamin B12, selenium and zinc; and a good source of fiber and iron.
Directions:
1. To prepare pesto, place arugula, almonds, garlic, lemon juice and lemon peel in food processor container. Cover; process until finely chopped. With motor running, slowly add oil through opening in cover, processing until smooth. Season with salt and pepper, as desired. Remove and reserve 1/4 cup pesto for serving; cover and refrigerate. Place beef steak and remaining pesto in food-safe plastic bag; turn steak to coat. Close bag securely and marinate in refrigerator 6 hours or as long as overnight, turning occasionally.

2. Heat 1 tablespoon oil in large nonstick skillet over medium heat. Add onion; cook and stir 4 to 5 minutes or until tender. Add tomatoes; cook 8 to 10 minutes or until most of liquid has evaporated, stirring occasionally. Stir in vodka; cook 7 to 10 minutes or until thickened, stirring frequently. Season with salt and pepper, as desired. Cool to room temperature.

3. Remove steak from marinade; discard marinade. Place steak on grid over medium, ash-covered coals. Grill, covered, 10 to 11 minutes (over medium heat on preheated gas grill, times remain the same) for medium rare (145 degrees F) doneness, turning occasionally. (Do not overcook.)

4. Carve steak into thin slices. Serve over vodka-tomato sauce; Top with reserved Arugula Pesto. Garnish with cheese, if desired.
Test Kitchen Tips:
Vodka-tomato sauce may be made up to 24 hours ahead; cover and refrigerate. Bring to room temperature before serving. One 28-ounce can whole tomatoes may be substituted for fresh tomatoes. Reserving juice, chop tomatoes. Add chopped tomatoes and juice to onion mixture and cook as directed above.

Recipe courtesy of The National Cattlemen's Beef Association
Photo courtesy of The Beef Checkoff
Please note that some ingredients and brands may not be available in every store.
Tops Friendly Markets Recipes
https://www.topsmarkets.com/Recipes/Detail/7654/