Tops Friendly Markets
Recipes
https://www.topsmarkets.com/Recipes/Detail/7631/Seared_Sea_Scallops_on_a_Bed_of_Sauteed_Greens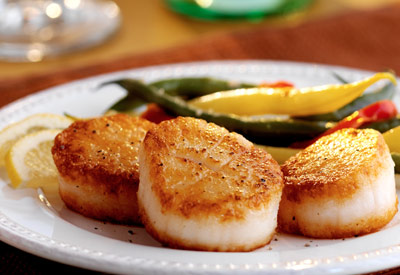 Seared Sea Scallops on a Bed of Sauteed Greens

When you have very fresh sea scallops, their sweet, succulent taste doesn't need a rich sauce. The trick to keeping scallops moist is to saute them quickly over high heat. Coating them with arrowroot helps form a delectable crisp, brown crust. Remove the scallops from the heat just before they're done, because once off the heat they continue cooking for a minute or two. Nestle the scallops in a bed of garlicky sauteed greens for a quick and memorable dinner. Or try them as a starter course with a garnish of string beans and lemon slices.

And whenever you serve seafood, use the Seafood Watch Guides from the Monterey Bay Aquarium to make the best choices for your table and for our oceans.
From Food to Live By: The Earthbound Farm Organic Cookbook by Myra Goodman
Customer Rating:
2 Ratings 0 Comments
Yield: 4 servings
Preparation Time: 10 min; Cook Time: 15 min; Total Time: 25 min
Ingredients
Garlicky Sauteed Greens:

2
pounds

Earthbound Farm Organic Greens (Baby Spinach, Mixed Baby Kales, Power Greens or Zen Blend)

2
Tablespoons

olive oil

1
Tablespoon

minced garlic

Salt (to taste)

Freshly ground black pepper (to taste)

Scallops:

1
pound

fresh sea scallops (farmed or diver caught)

1/4
cup

arrowroot (preferred, but you can use cornstarch or flour)

Olive oil

Lemon slices (or serving)

Chef Sarah's Special Spice Mix:

4
teaspoons

coarse salt

1 1/2
teaspoons

cayenne pepper

1 1/2
teaspoons

garlic powder

1 1/2
teaspoons

sweet paprika

1
Tablespoon

dried oregano

1
teaspoon

dried thyme

1
teaspoon

black pepper

1
teaspoon

onion powder
Add To

Directions:
To cook the greens:
Heat the olive oil in a large skillet over medium heat. Add the garlic and cook, stirring constantly, until fragrant, about 2 minutes.

Add the baby greens (if all the leaves don't fit into your skillet at first, add more by the handful as they wilt) and sprinkle with 1 tablespoon water. Turn the spinach with tongs until all the leaves are wilted and the garlic is evenly distributed. Season the spinach with salt and pepper to taste.

Spoon the greens into the center of a serving platter and cover with aluminum foil to keep warm while you cook the scallops.

To cook the scallops: If there is a tough white muscle on the side of any of the scallops, trim it off using a paring knife and discard it. Pat the scallops dry with paper towels.

Chef Sarah's Special Spice Mix:
Place all of the special spice mix ingredients in a small bowl and whisk to combine thoroughly. (You will have plenty of spice mix left over; store in a cupboard at room temperature, sealed tightly, for up to 1 month. It's fabulous on just about any grilled or seared seafood!)

In a separate shallow bowl, add about 1 tablespoon of the spice mixture (or more to taste) to the arrowroot; place in a shallow bowl with the arrowroot and whisk to combine. Dredge the scallops in the spice mixture, shaking off the excess.

Pour just enough olive oil in a large, nonstick skillet to thinly coat the bottom. heat the oil over medium heat until it is hot but not smoking. Add the dredged scallops in a single layer, working in batches if needed.

Cook the scallops until a brown crust forms on the bottom, 1 to 2 minutes. Turn the scallops with tongs and cook until lightly seared on the other side, about 30 seconds.

Immediately transfer the scallops to the platter of greens, arranging them with their crusty sides up, and serve immediately with lemon slices alongside.
Recipe and image provided on behalf of Earthbound Farm Organic
Please note that some ingredients and brands may not be available in every store.
Tops Friendly Markets
Recipes
https://www.topsmarkets.com/Recipes/Detail/7631/Seared_Sea_Scallops_on_a_Bed_of_Sauteed_Greens