Tops Friendly Markets
Recipes
https://www.topsmarkets.com/Recipes/Detail/7454/Classic_Roasted_Turkey_with_Pan_Gravy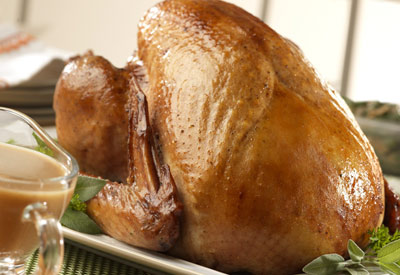 Classic Roasted Turkey with Pan Gravy

Whether it's your first time roasting a turkey, or you're a seasoned pro, you can ensure flavorful results with this tried-and-true recipe. It's so simple to make this classic, you'll find it's your anytime turkey recipe...no need to wait for Thanksgiving.

Yield: 6 servings
Preparation Time: 15 min; Total Time: 3 hr 55 min
Ingredients
1

turkey (12 to 14 pounds)

1 3/4
cups

Swanson Chicken Stock

3
Tablespoons

all purpose flour
Add To

Directions:
1) Remove the package of the giblets and neck from the turkey cavity. Rinse the turkey with cold water and pat dry with a paper towel. Tie the ends of the drumsticks together.

2) Place the turkey, breast side-up, on a rack in a shallow roasting pan. Brush the turkey with the stock. Insert a meat thermometer into the thickest part of the meat, making sure the thermometer is not touching the bone.

3) Roast at 325 degrees F for 3 to 3 1/2 hours or until the thermometer reads 180 degrees F and the drumstick moves easily, basting occasionally with the stock. Begin checking for doneness after 2 1/2 hours of cooking time. Let stand for 10 minutes.

4) Remove the turkey from the roasting pan. Pour off any fat. Stir the stock and flour in a small bowl until the mixture is smooth. Stir the stock mixture in the pan. Cook and stir over medium heat until the mixture boils and thickens. Season to taste. Serve the gravy with the turkey.
Please note that some ingredients and brands may not be available in every store.
Tops Friendly Markets
Recipes
https://www.topsmarkets.com/Recipes/Detail/7454/