Tops Friendly Markets
Recipes
https://www.topsmarkets.com/Recipes/Detail/7417/Amaize_Sweet_Corn_Summer_Spreads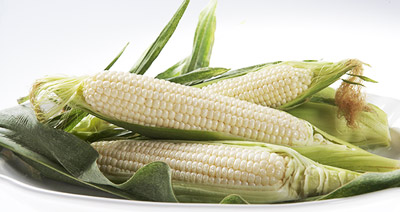 Amaize Sweet Corn Summer Spreads

Four fabulous spreads for the sweetest tasting corn you'll ever eat!
Ingredients
Fresh sweet corn on the cob, silk removed, husks left intact

Herb Butter:

1/2
cup

butter, softened

1 1/2
Tablespoons

your favorite fresh herb (basil, cilantro, dill, oregano, thyme), chopped

Chili Lime (fat free):

1

lime, juiced

1
teaspoon

chili powder

Horray for Horseradish:

1/2
cup

butter, softened

1
Tablespoon

prepared mustard

1
teaspoon

prepared horseradish

Make Mine Buffalo:

1/2
cup

light mayonnaise

2
Tablespoons

Frank's Red Hot Sauce
Add To

Directions:
Boiling corn:
Remove the husks and silk. Place the cobs in a kettle of boiling water. (Use a large enough kettle so corn isn't crowded.) Cover and return water to a boil. Boil for 3 to 4 minutes. Do not overcook.

Grilling corn:
Peel back corn husks, but do not remove corn from the base of the cob. Remove silk.

Fold husks back into place and soak corn in water bath for 10 to 15 minutes.

Heat grill to high and place corn in husks, on grill. Grill for 20 minutes, turning every 5 minutes. Husks will blacken.

When corn is done, remove from grill and carefully peel back and remove husks. For more of a grilled flavor, peel back husks and return corn to grill for a few minutes on each side.

_____________________________________________


Herb Butter Spread:
Mix butter with chopped herbs. Brush over cooked corn.

Chili Lime Spread (fat free!):
Stir together lime juice and chili powder. Brush over cooked corn.

Horray for Horseradish Spread:
Mix butter, mustard and horseradish until blended. Brush over cooked corn.

Make Mine Buffalo Spread:
Stir together mayonnaise and hot sauce until blended. Brush over cooked corn.


Please note that some ingredients and brands may not be available in every store.
Tops Friendly Markets
Recipes
https://www.topsmarkets.com/Recipes/Detail/7417/