Tops Friendly Markets
Recipes
https://www.topsmarkets.com/Recipes/Detail/7395/Wild_Copper_River_Salmon_with_California_Avocado%2c_Tomato_and_Mango_Salad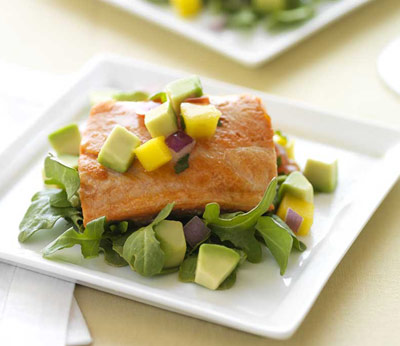 Wild Copper River Salmon with California Avocado, Tomato and Mango Salad

Yield: 4 servings
Ingredients
1

Fresh California Avocado, peeled and diced*

2
cups

chopped tomatoes

1

mango, peeled, pitted and diced

1/4
cup

red onion, finely chopped

2
Tablespoons

fresh lime juice

1
Tablespoon

fresh cilantro, chopped

1/4
teaspoon

salt, divided

1
Tablespoon

olive oil

4

(6 ounces each) wild Copper River salmon fillets

1/4
teaspoon

freshly ground black pepper
Add To

Directions:
Combine the avocado, tomato, mango, onion, lime juice, cilantro, and about a third of the salt in a bowl.

Heat the oil in a large nonstick skillet over medium-high heat. Sprinkle the salmon with the remaining salt and pepper. Add to the skillet, skin side up and cook until nicely browned, about 4 minutes. Turn and cook until skin is crisp and the salmon is still slightly translucent in the center, about 4 minutes longer.

Spoon the avocado mixture over the salmon and serve.

*Large avocados are recommended for this recipe. A large avocado averages about 8 ounces. If using smaller or larger size avocados adjust the quantity accordingly.

Source: www.CopperRiverSalmon.org
Author: David Bonom and Copper River Salmon
Recipe provided by The California Avocado Commission
Please note that some ingredients and brands may not be available in every store.
Tops Friendly Markets
Recipes
https://www.topsmarkets.com/Recipes/Detail/7395/