Tops Friendly Markets
Recipes
https://www.topsmarkets.com/Recipes/Detail/7380/Tender_Pepper_Rubbed_Strip_Steaks_with_Grilled_Vegetable_Trio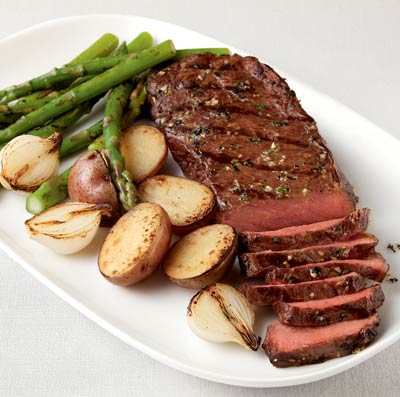 Tender Pepper Rubbed Strip Steaks with Grilled Vegetable Trio

Customer Rating:
2 Ratings 0 Comments
Yield: 4 servings
Preparation Time: 20 min; Cook Time: 20 min
Ingredients
2

(10 ounces each) boneless beef top loin strip steaks, cut 1- inch thick

1
pound

baby red skinned potatoes, cut in half

3 1/2
ounces

fresh pearl onions, unpeeled, cut in half

1
pound

asparagus, trimmed

2
Tablespoons

fresh lemon juice

1
Tablespoon

olive oil

Salt

Rub:

3
cloves

garlic, minced

2
teaspoons

chopped fresh thyme

1
teaspoon

chopped fresh oregano

1
teaspoon

chopped fresh parsley

1/2
teaspoon

lemon peel

1/2
teaspoon

coarsely ground mixed peppercorns (black, white, green and pink)
Add To

Nutrition Facts
Yield: 4 servings
Approximate Nutrient Content per serving:
Calories:
219
Calories From Fat:
81
Total Fat:
9g
Saturated Fat:
3g
Cholesterol:
84mg
Sodium:
64mg
Total Carbohydrates:
1g
Dietary Fiber:
0.4g
Protein:
31g
This recipe is an excellent source of protein, niacin, vitamin B6, vitamin B12, selenium and zinc; and a good source of iron.
Directions:
Place potatoes in microwave-safe dish. Cover and microwave on HIGH 2-1/2 to 3 minutes or until crisp-tender. Let stand 5 minutes to cool slightly. Thread potato halves onto 10 to 12- inch metal skewers. Thread onion halves onto separate metal skewers.

Combine Rub ingredients; reserve 2 tsp. for garnish. Press remaining herb mixture evenly onto beef steaks.

Place steaks in center of grid over medium, ash-covered coals; arrange potatoes, onions and asparagus around steaks. Grill steaks, uncovered, 15 to 18 minutes (over medium heat on preheated gas grill, covered, 11 to 15 minutes) for medium rare (145 degrees) to medium (160 degrees) doneness, turning occasionally. Grill potatoes and onions 5 to 10 minutes (gas grill times remain the same) or until golden brown and tender; grill asparagus 6 to 10 minutes (covered, 8 to 12 minutes on gas grill) or until crisp-tender, turning occasionally.

Remove potatoes and onions from skewers; peel onions. Combine potatoes, onions, lemon juice, oil and lemon peel in large bowl. Toss to coat. Season with salt, as desired.

Carve steaks into slices. Season with salt, as desired; sprinkle with reserved herb mixture. Serve steaks with grilled vegetables.
Recipe courtesy of The National Cattlemen's Beef Association
Photo courtesy of The Beef Checkoff
Please note that some ingredients and brands may not be available in every store.
Tops Friendly Markets Recipes
https://www.topsmarkets.com/Recipes/Detail/7380/