Tops Friendly Markets
Recipes
https://www.topsmarkets.com/Recipes/Detail/7377/Italian_Marinated_Steak_with_Grilled_Ratatouille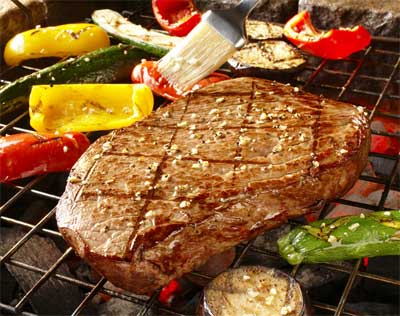 Italian Marinated Steak with Grilled Ratatouille

Cook Once -- Eat Twice Meal
Yield: 4 servings
Preparation Time: 15 min to 2 hrs; Total Time: 45 to 50 min
Ingredients
Meal One: Italian Marinated Steak with Grilled Ratatouille

1

(1 1/2 lb) beef sirloin steak marinated with Tops Fresh Creations Lemon Dill Marinade, 1-in cut

1

small eggplant, cut crosswise into 1/2- inch thick slices

1

large red bell pepper, cut lengthwise into quarters

1

large yellow bell pepper, cut lengthwise into quarters

1

medium zucchini, cut lengthwise in half

1

medium yellow squash, cut lengthwise in half

1 1/2
cups

chopped fresh tomatoes

1/3
cup

lightly packed chopped fresh basil

Salt

Ground black pepper

1/2
cup

Italian dressing

Meal Two: Steak and Grilled Vegetable Salad

6
ounces

(1 cup) leftover grilled steak slices (marinated with Tops Fresh Creations Lemon Dill marinade)

4
cups

mixed baby salad greens

1
cup

leftover grilled vegetables

1/2
cup

grape tomato halves

Shaved Parmesan cheese

Vinaigrette (Meal Two):

2
Tablespoons

olive oil

1
Tablespoon

balsamic vinegar

1 1/2
teaspoons

Dijon style mustard

1
teaspoon

chopped fresh parsley

1/8
teaspoon

salt

Dash pepper
Add To

Nutrition Facts
Yield: 4 servings
Approximate Nutrient Content per serving:
Calories:
347
Calories From Fat:
171
Total Fat:
19g
Saturated Fat:
4g
Cholesterol:
61mg
Sodium:
199mg
Total Carbohydrates:
12g
Dietary Fiber:
3.4g
Protein:
30g
This recipe is an excellent source of protein, niacin, vitamin B6, vitamin B12, selenium and zinc; and a good source of fiber and iron.
Directions:
Meal One:
Italian Marinated Steak with Grilled Ratatouille

Place beef steak and 1/2 cup marinade in food-safe plastic bag; turn steak to coat. Close bag securely and marinate in refrigerator 6 hours or as long as overnight, turning occasionally. Cover and reserve remaining marinade in refrigerator.

Set aside 2 tablespoons of Italian dressing for ratatouille. Brush vegetables (except tomatoes) with some of the Italian dressing.

Remove steak from marinade; discard marinade. Place steak in center of grid over medium, ash-covered coals; arrange vegetables around steak. Grill steak, covered, 12 to 14 minutes for medium-rare (145 degrees F) doneness, turning occasionally. (Do not overcook.)

Grill eggplant and bell peppers 12 to 15 minutes; zucchini and yellow squash 8 to 12 minutes or until tender, turning occasionally and basting with remaining reserved marinade.

Cut grilled vegetables into 1-inch pieces. Carve steak into thin slices. Cover and refrigerate 1 cup of vegetables and 1 cup of steak slices to use in Steak and Grilled Vegetable Salad.

For ratatouille, combine remaining vegetables, tomatoes, basil and 2 tablespoons Italian dressing in medium bowl; toss to coat. Season ratatouille and remaining steak with salt and black pepper, as desired. Serve ratatouille with steak.

Meal Two:
Steak and Grilled Vegetable Salad - 2 servings

Whisk vinaigrette ingredients in small bowl until blended.

Divide salad greens between 2 serving plates. Arrange beef steak slices, grilled vegetables and tomatoes evenly over greens. Drizzle evenly with vinaigrette; top with cheese, as desired.

Nutritional Information Per Serving Nutrition information per serving: 339 calories; 20 g fat (4 g saturated fat; 13 g monounsaturated fat); 61 mg cholesterol; 310 mg sodium; 10 g carbohydrate; 4.7 g fiber; 30 g protein; 6.2 mg niacin; 0.6 mg vitamin B6; 1.5 mcg vitamin B12; 4.3 mg iron; 31.1 mcg selenium; 5.4 mg zinc.
Recipes courtesy of The National Cattlemen's Beef Association
Photo courtesy of The Beef Checkoff
Please note that some ingredients and brands may not be available in every store.
Tops Friendly Markets Recipes
https://www.topsmarkets.com/Recipes/Detail/7377/