Tops Friendly Markets
Recipes
https://www.topsmarkets.com/Recipes/Detail/7360/Eggs_Benedict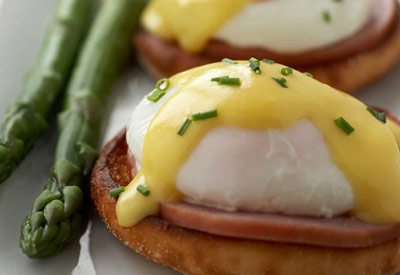 Eggs Benedict

A true breakfast menu classic!
Yield: 4 to 8 servings
Preparation Time: 20 min; Cook Time: 10 min
Ingredients
8

eggs, cold

4

English muffins, split, toasted

8
slices

Canadian style bacon, warmed

3/4
cup

Hollandaise Sauce

Garnish with chives, if desired
Add To

Nutrition Facts
Yield: 4 to 8 servings
Approximate Nutrient Content per serving:
Calories:
626
Calories From Fat:
369
Total Fat:
41g
Saturated Fat:
20g
Cholesterol:
601mg
Sodium:
1,412mg
Total Carbohydrates:
29g
Dietary Fiber:
2g
Sugars:
1g
Protein:
34g
Excellent Source: protein, vitamin A, folate, choline and iron. Good Source: vitamin D and calcium.
Directions:
Heat 2 to 3 inches of water in large saucepan or deep skillet to boiling. Adjust heat to keep liquid simmering gently. Break eggs, 1 at a time, into custard cup or saucer. Holding dish close to surface, slip egg into water.

Cook eggs until whites are completely set and yolks begin to thicken but are not hard, 3 to 5 minutes. Do not stir. Lift eggs from water with slotted spoon; drain well.

Top each muffin half with 1 bacon slice, 1 egg and about 1 1/2 Tbsp hollandaise sauce. Serve immediately.
Use very fresh eggs for poaching. They hold their shape better and form fewer wispy threads or "angel wings" in the water.

Do not swirl the water when poaching eggs. This creates a vortex that will ruffle the delicate egg protein. Relatively quiet water that is gently simmering produces the best result.

Do not poach eggs ahead of time and hold them in the refrigerator.

Recipe and Image provided on behalf of the Incredible Edible Egg. For more egg recipes and nutrition information, please visit IncredibleEgg.org


Please note that some ingredients and brands may not be available in every store.
Tops Friendly Markets Recipes
https://www.topsmarkets.com/Recipes/Detail/7360/