Tops Friendly Markets
Recipes
http://www.topsmarkets.com/Recipes/Detail/7917/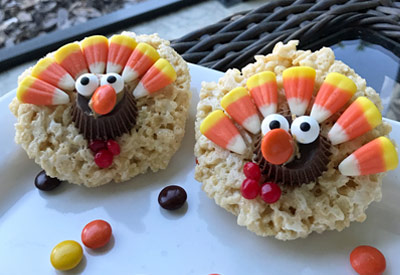 Rice Krispie Treat Turkeys

Yield: 8 servings
Ingredients
6
cups
crispy rice cereal

4
Tablespoons
butter

1
package
(10.5 ounce) marshmallows

8
Reese's Miniatures Peanut Butter Cups

8
orange Reese's pieces

16
candy eyeballs

56
candy corns

24
red hots or cinnamon decors candy

Peanut butter or hazelnut spread
Directions:
Line a 1 inch deep baking sheet with parchment paper.

Place miniature peanut butter cups in freezer for 15 minutes.

Place butter in large saucepan on medium low heat and melt.

Add marshmallows and stir constantly until completely melted; remove from heat.

Immediately add cereal and stir until all pieces are evenly coated.

Use wax paper to press the mixture firmly into the prepared pan so mixture is 1 inch thick. Note that the mixture will not cover the entire baking sheet in order for the treats to be 1 inch thick.

Set aside to cool.

Using a 3 inch cookie cutter or drinking glass, cut out 8 circles.

Remove peanut butter cups from the freezer and remove wrappers.

Using a toothpick or small spatula, place a dab of peanut butter on the top of a peanut butter cup and attach to the lower half of the rice krispie circle.

Apply peanut butter to the back of 7 candy corns. Place around the upper half of the peanut butter cup with the white tips pointing towards center to resemble tail feathers.

Place a dab of peanut butter on the peanut butter cup and attach eyes. Place a Reese's piece vertically just below the eyes for the beak.

Place a dab of peanut butter at the base of the peanut butter cup and attach 3 cinnamon candies to resemble a waddle.

Repeat until all 8 rice krispie circles have been decorated.
Note:
The bottom the of rice krispie circles is sticky. Place on wax paper or parchment paper.

Adapted from Pinterest
Photo and food styling by Webstop
Please note that some ingredients and brands may not be available in every store.
Tops Friendly Markets Recipes
http://www.topsmarkets.com/Recipes/Detail/7917/