Tops Friendly Markets
Recipes
http://www.topsmarkets.com/Recipes/Detail/5683/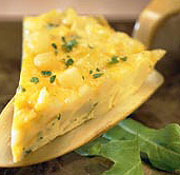 Idaho Potato Torta
Serve with shaved Manchego cheese and arugala salad as accompaniment

Customer Rating:
1 Ratings 0 Comments
Directions:
1. Cover potatoes and onion with olive oil in heavy bottom saucepot. Simmer on stovetop over medium to medium-high heat until potatoes are just tender, about 8 minutes. Occasionally, stir carefully to prevent potatoes from sticking to the bottom of the pan.

2. Drain and reserve 2 tablespoons oil. Mix potatoes and onion with eggs, parsley, salt and pepper. Preheat 10-inch nonstick saucepan on stovetop with reserved olive oil on medium heat. Pour in potatoes, onion and egg mixture, smoothing out mixture with a rubber spatula. Gently shake pan using rubber spatula to keep mixture from sticking to sides until eggs begin to set (approximately 5 minutes), being careful not to brown eggs.

3. Place pan in 300 F. preheated oven until mixture is completely set (12 to 15 minutes). Be careful not to overcook, as tortilla will be rubbery with overcooking. Remove from oven, let cool for 5 minutes and carefully invert onto plate or cake circle. Cool to room temperature and slice.

4. Serve with shaved Manchego cheese and arugala salad as accompaniment.

Note: Excess reserved olive oil may be used to repeat process once. Store tightly covered in refrigerator.



Source: Idaho Potato Commission
Please note that some ingredients and brands may not be available in every store.
Tops Friendly Markets
Recipes
http://www.topsmarkets.com/Recipes/Detail/5683/